Naomi Campbell Rocks The Runway in Debut Collection with PrettyLittleThing
The model admitted that she was "nervous."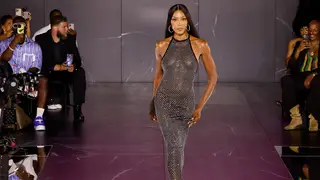 Naomi Campbell doesn't just walk runways anymore. Now, she also designs garments that are seen on runways.
While commanding the room, Campbell set the runway on fire and let her walking do all the talking Tuesday night (September 5) during the debut of her collection with PrettyLittleThing at Cipriani Broadway in New York, as reported by Page Six. This feat combined her expertise as a legendary model and her wits as a designer.
When it was time for Campbell to step onto the runway, she did not disappoint. She rocked a $125 sheer maxi dress from the new collection.
But before and after the show, she had a range of emotions. She expressed how thrilled she was.
"After 37 incredible years on the catwalk, I'm thrilled for the opportunity to share my latest adventure on the other side – as a designer! Especially during the start of NYFashionWeek!"
However, before the curtain call, she experienced anxiety. After the show, the mom of two opened up to PEOPLE about how she felt prior to her big moment. "I was nervous," she admitted.
"I just wanted to make sure the girls were okay, that they could walk okay, that everyone's going to be strong and poised," she continued. "I was saying, 'Strong, strong, strong, strong' and 'be yourself, let your personality show.'"
"I'm looking at myself as a changemaker," she told WWD. As a changemaker, I thought this was something that was a good thing to do. I know that it's fast fashion, and that people have their criticism. I'm not denying them. But as a changemaker, I felt this was a great way to effect change in the industry in getting my emerging designers recognized and seeing them on a global platform," she added.