Naomi Campbell Collabs with Emerging Black Designers For New Collection with PrettyLittleThing
"As a changemaker, I thought this was something that was a good thing to do," said the iconic supermodel.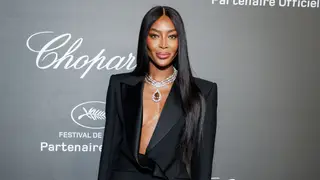 Naomi Campbell is striking a pose in a brand-new campaign.
On Wednesday (August 30), news spread that the iconic runway model has partnered with e-retailer PrettyLittleThing for a collection that promotes body inclusivity, according to WWD. To bring the collection to life, Campbell joined forces with two Black designers –Victor Anate, whose roots trace back to Nigeria, and Edvin Thompson, a Jamaican-born New Yorker– hoping to effect change in the fashion industry.
"I'm 53. It's [a matter of] getting to know a whole different audience that I didn't know before or I thought I didn't know, or I thought they didn't know me," she told the publication.
Although Campbell is known for gracing multifaceted runways across the globe, she said this moment in her career is about being impactful and making sure others get a seat at the table.
"I'm looking at myself as a changemaker. As a changemaker, I thought this was something that was a good thing to do. I know that it's fast fashion, and that people have their criticism. I'm not denying them. But as a changemaker, I felt this was a great way to effect change in the industry in getting my emerging designers recognized and seeing them on a global platform," she added.
"By opening up all borders — fashion is not supposed to discriminate — and allowing anyone and everyone who wants to come and show in whatever country. If their dream is to show, then let them show," she said. "Giving them the support that they need is the most important thing, whether that is how they manufacture or produce."
The collection features a wide range of trendy pieces with timeless attributes from sizes 0 to 26 and will feature a body-con dress with cutouts and an off-white satin dress. Other looks will include coats for winter, power suits, and footwear.
The anticipated collection drops on September 5 at  www.prettylittlething.us. The launch will also be accompanied by a runway show featuring Campbell at Cipriani Broadway in Manhattan.