Amina Buddafly Took A Drastic Move In Her Relationship With Peter Gunz
"The end."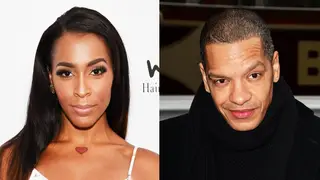 Peter Gunz and Amina Buddafly have been torturing Love & Hip Hop viewers with their back and forth romance and unrequited love trangle with third addition Tara Wallace for years. With seasons of teasing that they were going to officially call it quits, it appears as the two have finally followed through, and they're posting receipts.
Amina took to her Instagram story to share a photo of what appears to be the official divorce papers, completed with the caption, "Ready, set, go..."
Peter posted a screenshot of the image to his Instagram account, captioned "The end..."
These two have had quite the dysfunctional relationship for years. L&HH viewers were first introduced to the pair when it was shown that Peter had begun seeing Amina while he was still in a relationship with Tara, the mother of his child.
Things got even more tumultuous when Peter seemingly continued to date both women, simultaneously, with both ladies eventually having more children with him.
Peter and Amina, however, eventually got married, but their relationship woes continued despite their nuptials. They resorted to Marriage Bootcamp: Reality Stars to work out their issues, but it appears it was to no avail, given the current outcome.