Lil Wayne's Security Guard Presses Charges Over Rapper Alleged Gun Assault
The guard claims that Weezy hit him numerous times.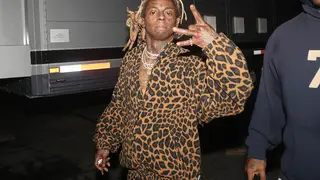 According to a report by TMZ, the security guard who alleged that Lil Wayne pulled an assault rifle on him is now looking to file charges against the rapper.
Initially, the as-yet-to-be identified security guard said that he didn't want to file charges. It is not clear what charges he's hoping to file, but he claims that the Young Money CEO hit him numerous times with an AR-15-style rifle, which means that this could be an assault-related charge.
Last month, the security guard called police following an argument at Wayne's Hidden Hills, California home. The situation became heated, according to the security guard, after the Funeral rapper allegedly told him to leave the house and brandished the weapon.
By the time authorities arrived at the scene, Weezy F. had already left, and law enforcement cited that the security guard did not sustain any major injuries. According to TMZ, the argument between the guard and Wayne stemmed from accusations about leaked pictures online.
Police have yet to speak with the rapper about the situation.
On Monday, Jan. 3, it was revealed that Lil Wayne will show up on The Weeknd's newly announced album Dawn FM and was also recently featured on Cordae's single, "Sinister," which you can listen to during our weekly round-up called  This Weekend.