Russell Simmons Responds To Police Investigation Over Sexual Battery Allegations
The entrepreneur has released a statement.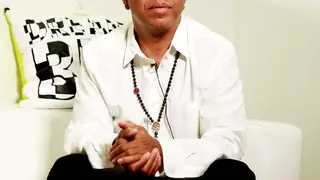 Russell Simmons was investigated by the Beverly Hills Police Department, alongside recently fallen producer Brett Ratner, for an alleged case of sexual battery back in 2001. Prosecutors, however, decided not to press charges due to insufficient evidence and failure to identify the alleged victim.
Now, more than 16 years later, Simmons has issued a statement addressing the claims.
According to Variety, police records indicate that a 29-year-old woman filed a report at 4:45 a.m. on November 3, 2001, claiming she was held against her will and was inappropriately touched by two men.
In the report, she claimed the incident occurred between the hours of 2:00 a.m. and 3:00 a.m. at a residence in the 1200 block of Benedict Canyon Drive. Ratner's home is on the same block as the previously named residence.
Simmons has since responded to the claim in a statement.
"This is an important and critical time for the empowerment of women and men who have been harassed," it reads. "I have been a public figure for all of my adult life. And when you are in that arena over decades, you can find yourself in a position where you are vulnerable and susceptible to claims that are untrue."
This comes on the heels of Ratner being forced to vacate his office on the Warner Bros. studio Burbank lot after the Los Angeles Times reported that six women had come forward accusing him of sexual assault.
Get more Russell Simmons news with BET Breaks above.