'Diplomatic Immunity' Turns 20: A Look Back On Its Enormous Impact
Harlem still sticks together.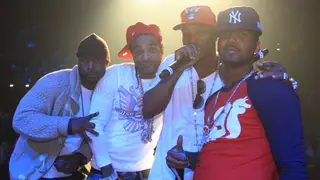 There are very few groups who had an influence on fashion and music in hip-hop culture than The Diplomats.
The Harlem quartet successfully employed tenants of famous American apologue while implying they themselves couldn't be touched by the country's legal authority. On their debut LP as a group, Cam'ron, Freekey Zekey, Juelz Santana, and Jim Jones brought unbridled swagger backed up by an undeniable look supported by American flag bandanas, Pelle Pelle jackets and a tinge of Killa pink.
It was unapologetically Harlem and set the standard for rap collectives moving forward.
Musically, the distorted high-pitched samples The Heatmakerz incorporated into their flashy-yet-straightforward production set the stage for primarily Cam, Juelz and Jim to trade bars over. But perhaps one of the more brilliant elements going on with the double-disk LP was the criticism of American foreign policy at the time.
Released less than two years after 9/11, Diplomatic Immunity offered a shrewd counterpoint to the U.S. government's decision to invade both Afghanistan and Iraq in the wake of the then-fresh national tragedy. Songs like "Ground Zero" have Juelz' figuratively instructing listeners to "follow me through the debris of these towers" but then later relay the frustration of how 9/11 affected his ability to move weight on the block on "Gangsta," rapping "I'm mad the coke price went up / And this crack won't sell." All that, in addition to referencing the Taliban throughout the album.
Perhaps those who saw the American flag imagery, at surface level, believed Dipset was on board with George W. Bush's most infamous foreign policy decision, but they were anything but supportive.
Chaos in general was an ever-running theme across Diplomatic Immunity but it was often mixed with the elation of success the group had recently attained in being able to release it at all. Spanning 27 tracks, the LP didn't clock as long as it looks, as a generous sprinkling of skits throughout helped set up the tracks. It was also indicative and revolutionary of what was going on in hip-hop at the time.
Battling 50 Cent's monstrous debut Get Rich or Die Tryin', which had been released just weeks earlier, Dipset towed the line of being a proper group introduction but also incorporating street tape culture that was booming in New York at the time. It's why they combined industry freestyles heard on previous unofficial releases with new material.
The album also introduced a second cast of affiliated artists that would make their own wave in hip-hop in the coming years as Un Kasa and Hell Rell both made appearances. Other features stamped The Diplomats' then-Roc-A-Fella affiliation as Freeway appeared on "My Love," while DMX and Master P's inclusion exemplified an effort to retain two of the hottest artists at the time on their Magnum Opus.
Timing was also key. As the Big Apple began relinquishing its ever-strong chokehold over what dictated culture in hip-hop, The Diplomats provided a definitive reminder that their city still ran things nationally with the ability to effectively relay NYC's tough-talking nature and a look that influenced the culture for years to come.
Diplomatic Immunity is a prime example of an LP release in an era in which hip-hop records ran long and sometimes rambled. It doesn't play out like the movie that is Get Rich, but is meant to sit in your car's CD changer until one can successfully get through all the braggadocious bangers it offered. Both albums were New York at their core, but DI made sure to refresh anyone's memory of what city remained king of the culture.
"Dipset Anthem" and "Built This City" took listeners straight to 145th and Lenox Ave while the Heatmakerz classic "I Really Mean It" had Cam and Jim trading bars over a booming background.
In the lineage of Dipset releases, Diplomatic Immunity came out a year after Cam'ron's landmark and third solo album Come Home With Me, which boasted the singles "Oh Boy" and "Hey Ma" but a year before Purple Haze, which would later be dubbed his best LP critically. It was also before hip-hop in general made a more alternative pivot.
Albums like Kanye West's debut College Dropout and OutKast's double CD Speakerboxxx/The Love Below, offered the notion that rap wasn't singularly a tough-guy's sport with the commercial support and chart numbers backing that up.
Still though, perhaps Diplomatic Immunity's biggest influence among future New York rap collectives was the inclination that unique style and fashion was necessary to mix with the music. Whether it was A$AP Mob during the early 2010s or modern day movements like New York Drill or Buffalo's Griselda, bars alone can't be it. Visual appeal is everything, and that's something they helped establish.
While Avirex leathers and Evisu jeans may not be in-style anymore, fashion in hip-hop culture is now as important as ever. Sans A$AP Rocky, it's hard to find anyone who brought Harlem to the forefront better in the 2000s than Dipset.