Kandi Burruss And Tamar Braxton Join The Cast Of 'Celebrity Big Brother'
The reality stars are competing for a serious prize.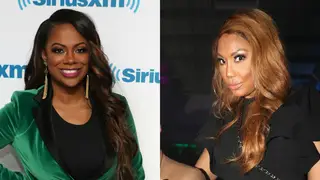 Reality TV veterans Kandi Burruss and Tamar Braxton are set to appear in the same program as it was recently revealed that both ladies are a part of the cast of the forthcoming season of the CBS reality series Celebrity Big Brother.
The Real Housewives of Atlanta star and Braxton Family Values staple both took to social media to share the news with their fans.
Kandi first took to Instagram, following the show's announcement, to reiterate that she will be a part of the star-studded cast.
Tamar soon followed suit, confirming the announcement and also sharing with her followers that she has been a fan of the Big Brother franchise for a while.
The rest of the cast include former White House communications director Anthony Scaramucci, Lindsay Lohan's infamous momager, Dina Lohan, athlete Ryan Lochte, actor Kato Kaelin, WWE wrestler Natalie EVA Marie, Olympic bobsledder Lolo Jones, NFL star Ricky Williams and more.
The show, which sees all of the contestants compete in a series of challenges while locked in a house together for a series of weeks, offers a grand prize of $250,000.
Celebrity Big Brother premieres on January 21 and will air for 13 episodes.