Too Short, Snoop Dogg, Ice Cube, And E-40 Create Hip Hop Supergroup
"We wanted to do some business ventures together," Too Short says.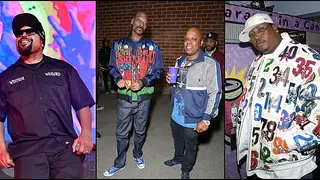 Four West Coast hip-hop legends are extending their rap careers with plans to release "volumes" of music, tour, and complete other business ventures. 
Too Short, 54, Snoop Dogg, 49, Ice Cube, 51, and E-40, 53, are forming hip-hop supergroup, Mt. Westmore. Too Short revealed the news of the group's formation on March 16 during an interview with DJ Vlad. The Oakland, California, rapper says the move isn't just a quick strike to release music.
"It's not a thing that we dreamed up," Too Short says. "It is a thing that's really real.This is serious s--t and we did this because we wanted to do some business ventures together and we wanted to join forces to do future tours together as we release these projects." 
Too Short sees the venture as an opportunity to "extend" their careers in a unique fashion. In an interview with M.C. Serch, Too Short recalls getting a call from E-40 and Cube, during quarantine, about putting an album together. 
"E-40 and Too Short are from the Bay, Snoop Dogg and Cube are from L.A. and we are like the West Coast foundation," Too Short said. 
He also revealed in an interview with HipHopDX that Dr. Dre is going to be a part of the album. Dr. Dre is the album's only feature and he's already contributed. 
"He's on there. Snoop got him on there. Dre is on there," Too Short said.  That's Snoop's guy. That's Ice Cube's guy."
On December 19, 2020, E-40 and Too Short went head-to-head in a Verzuz battle, taking turns playing their legendary catalogs. Prior to the duel, they both dropped solo albums and packaged them as a bundle of 20 total tracks. Too Short released his album Ain't Gone Do It and E-40 released Terms & Conditions.