Super Bowl LVI: Live Updates of Cincinnati vs. Los Angeles
Keep checking back for BET's live coverage from the biggest night in NFL football straight from SoFi Stadium in Inglewood, California.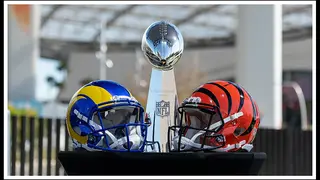 Super Bowl LVI is finally here allowing sports hounds across the globe to make their bets on who will win this rousing bout between the Los Angeles Rams and the Cincinnati Bengals. And as luck should have it, BET.com is on-hand for all the thrilling action on- and off-the field.
---
America Is Black and Beautiful
6:38 p.m. ET/3:38 p.m. PT: This is how it is going down for Super Bowl LVI. Your favorite content connoisseur, Kevin L. Clark, reporting live from SoFi Stadium.The football finale between the Cincinnati Bengals and the Los Angeles Rams has electrified Inglewood. But for me, it was all about Mickey Guyton. The award-winning singer-songwriter kicked off the festivities by singing the nation's anthem, eliciting a swelled response from both players and fans inside the stadium.
"Seeing Mickey Guyton gives me great hope for this country accepting more artists of color," says indie Afrobeat artist Angel Mudah.
And then this happened...Dwayne "The Rock" Johnson, a former pro football player himself, finally made it to the Super Bowl. Could he be interested in a future as an owner? One never knows...
Press Box Purgatory
6:50 p.m ET/3:50 p.m PT: The SoFi Stadium is packed with people coming from all over the country to witness the Super Bowl. Truthfully, it is all about the Halftime Show for me and witnessing a multi-generational showing of hip hop icons absolutely bring the house down with their as-yet-to-be seen performance. 
But while in the press box, the beginning of this game is a feeling out period between both teams. As the Rams inch towards the goal line, I've already began plotting my descent to get closer to the action.
Tales from the Tailgate
6:58 p.m ET/3:58 p.m PT: L.A. and championships are synonymous with one another. SoFi Stadium, where Super Bowl LVI has just welcomed the Rams onto the scoreboard (7-0), is actually across from the legendary Forum where the Showtime Lakers reigned supreme during the 1980s.
Before entering to get cozy for the game, I walked around to see how active the streets were and to try to run into friends or famous faces to speak to for BET.com. 
Let's just say the face shield I have on is a welcomed accessory, there are more Raiders fans than I expected hanging out, and there is real love for "No Love Lost" rapper-singer Blxst, as multiple songs from him blared out of car speakers.
"I got a feeling that we're gonna be in for a summer full of Blxst for real, for real," says aspiring creative Tolstoi Jenkins.
One Quarter Before Icon Time
7:27 p.m. ET/4:27 p.m. PT: The clock starts anew to start the second quarter, and I'm still in the press box. The score, which finds the Bengals down 7-3, is downplayed by the row of media scribes I'm sitting alongside. Our conversation was off-the-record, but the takeaway I have from the first 15 minutes of the game is that Joe Burrow and his crew have their work cut out for them when throwing into the outfield. If the Rams do win this first half, you can count on the L.A.-centered Halftime Performance to amp the crowd up to another octave once the second quarter clock strikes zero.
The Stars Shine Brightest in L.A.
7:32 p.m. ET/4:27 p.m. PT: Not having to deal with commercial means the unedited and unfiltered moments from Super Bowl LVI are ripe for enjoyment. And in the city where everyone wants to be a star, Black Hollywood's best and brightest have already shown out and we're still 10-plus minutes away from intermission.
Cardi B and Offset caught a healthy pop from the crowd, while Kevin Hart and Dwayne "The Rock" Johnson traded jokes from the executive suites. The Weeknd is nearby one of the tunnels, with an assortment of friends, and saluted the crowd. Lastly, Shaquille O'Neal earned a raucous applause from Laker Nation, and he managed to keep his socks and shoes on to return the love back.
Countdown To Icon Time
7:42 p.m. ET/4:42 p.m.: No one knows what to expect from the collective of Dr. Dre, Snoop Dogg, Kendrick Lamar, Mary J. Blige, and Eminem — but you can feel the energy in every direction that something is going to happen. Blige, who spoke to BET.com ahead of this event, remarked  on how it felt to be a part of an iconic music moment, and I believe what we see tonight will be all others discuss for some time to come.
Having seen Kendrick Lamar at Day N Vegas, his stage show was immersive, expressive, and epically Black. We all may be about to witness something that will shake how NFL halftime performances are done from here on out.
Pepsi Super Bowl LVI Halftime Show
8:15 p.m. ET/5:15 p.m. PT:  (L-R) Eminem, Kendrick Lamar, Dr. Dre, Mary J. Blige, 50 Cent, and Snoop Dogg perform during the Pepsi Super Bowl LVI Halftime Show at SoFi Stadium on February 13, 2022 in Inglewood, California. 
We can't pick a favorite!
A New Look Halftime Show
8:45 p.m. ET/5:45 p.m. PT: The highly anticipated halftime show delivered on its promise to be unlike anything ever seen in the past few years and properly gave flowers to one of the architects of West Coast hip hop, Dr. Dre. Kicking off the performance alongside his partner-in-rhyme, Snoop Dogg, the two floated over their classic G-funk sound in a stage set designed a palatial estate.
The bill already had a stacked lineup, but then from out of the ceiling drops 50 Cent, the rapper and now-TV executive producer who went diamond as part of Dre's Aftermath Entertainment run, and he goes right in to "In Da Club." Other surprise guests included Anderson .Paak and musical director Adam Blackstone, who played has previously played in performances with Jay-Z, Kanye West, Eminem, Janet Jackson, Dr. Dre, The Jonas Brothers, and The Roots and played over "Still D.R.E." throughout the halftime set. 
The show was impressive with homages to L.A. — from lowriders to Snoop's C-walk — and heralded Mary J. Blige's arrival as its next performer. The Queen of Hip Hop Soul stepped out dazzling the SoFi Stadium attendees in her outfit, who were also connected to the moment via their lanyards to be a part of the performance. On the opposite side, Dr. Dre's protégé, Kendrick Lamar, made another rare appearance with a crisp run-through of "m.A.A.d city" and "Alright," which had the audience singing along in unison.
Eminem rounded out the lineup, as "Lose Yourself" was turned up to another decible as the crowd karaoke rapped along with Slim Shady. And from where I was at in the mix, the third year of the NFL and Roc Nation's collaborative partnership marked a huge step in the right direction — and one I enjoyed very much.
BET.com caught up with rapper Big Sean who talked to us about his girlfriend, singer Jhené Aiko's performance of "America the Beautiful" and the half-time show at the 2022 Super Bowl in L.A.  
"She was incredible. I love how she kept it her vibe. I love how she didn't try and compromise," said Big Sean. "She sounded beautiful and looked beautiful. You know, she grew up right around here so it's a full circle moment for her. And everyone around her knew that so it was beautiful to see that dream come true, on one of the  biggest platforms like this."
As for his reaction to seeing Eminem, Kendrick Lamar, Dr. Dre, Mary J. Blige, 50 Cent, and Snoop Dogg perform, Big Sean told us, "
I feel like this is the halftime show, we needed for hip hop. This was something that was long overdue. And, it's just beautiful. Like I said, the whole hip hop community really needed this. The whole world needed this," said Big Sean.  
And The Winner Is...
10:04 p.m. ET/7:04 p.m. PT: With everything on the line, the Cincinnati Bengals were ousted by the L.A. Rams after an incredible drive from Matthew Stafford. Super Bowl LVI's hero, Aaron Donald, put the final stamp on the 23-20 win by putting the pressure on Joe Burrow (aka Joe Brrr). Odell Beckham's travels from Cleveland to Hollywood has resulted in a championship ring. It was my first time at an occasion like this. To see an exalting of beautiful Blackness on- and off-the-field was a cool moment I'll not soon to forget.
BET's live coverage on Sunday, February 13 was from the biggest night in NFL football straight from SoFi Stadium in Inglewood, California.
---