Trey Songz Just Threw Himself at Halle Berry
The R&B star is shooting his shot.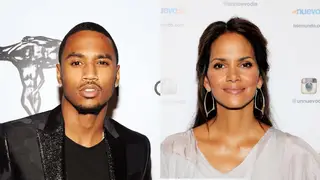 Like most heterosexual men, Trey Songz has major eyes for Halle Berry. However, unlike most, he's built up the courage to take a huge step in ensuring that the Academy Award-winning actress is aware of his interests.
The "I Invented Sex" crooner took to Twitter to share with his followers that he recently slid into the 50-year-old actress's DMs, and urged them to "pray to God" she responds.
Take a look at Trey explaining the hilarious gesture, below:
While Halle is definitely a single woman at the moment having split from her French now ex-husband, Olivier Martinez, back in 2016, she has yet to respond to the singer, as she's currently wrapped up promoting her new film, Kidnap.
Do you think Trey has a chance with the A-list actress, though?
See how the Oscar winner recently dispelled pregnancy rumors with BET Breaks, above.