Arrest Warrant Issued For Los Angeles Lakers' DeMarcus Cousins After He Threatened To Shoot His Ex-Girlfriend
The NBA player is under investigation for harassing communications of the third degree.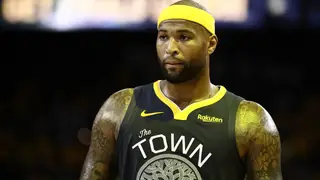 Police in Mobile, Alabama have issued an arrest warrant for NBA baller DeMarcus Cousins after he threatened to put a "bullet" in the head of the ex-girlfriend and mother of his child, Christy West. 
The Los Angeles Lakers Center is being investigated for misdemeanor harassing communications of the third degree two days after a leaked audio recording surfaced of Cousins allegedly threatening West. 
TMZ published audio of an argument between a man identified to be Cousins and a woman believed to be West. 
In the audio, the pair are arguing over whether or not West would allow their 7-year-old son to attend Cousins' wedding in Atlanta over the weekend. Once West declines Cousins' request, he is heard threatening to "put a bullet in (her) f---ing head," even if "he didn't have to get his hands dirty doing it." 
According to court documents obtained by ESPN, West filed a restraining order against Cousins in Alabama. Per court records, her request was granted, and a final hearing on the order is scheduled for November 4. 
On Tuesday, NBA spokesman Mike Bass released a statement that they are aware of the domestic abuse claims against Cousins and are investigating the incident. 
The Lakers also acknowledged the allegations: "We are aware of the allegations involving DeMarcus Cousins and, of course, take this claim seriously," the team said in a statement. "We are in the process of gathering information and will reserve further comment at this time."
USA Today interviewed a defense attorney who said it was unlikely the 29-year-old would face "much if any" jail time.
Cousins signed a one-year $3.5 million contract with the Lakers in free agency. After injuring his ACL during an offseason workout, the Alabama native is expected to miss the entire 2019-20 NBA season.