Judge Says Tory Lanez Violated Protective Order In Megan Thee Stallion Felony Case
Lanez is currently being held on $350,000 bail.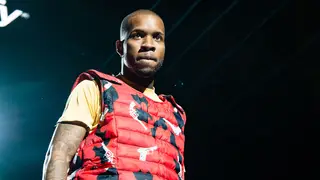 Things are not looking good for Tory Lanez. According to Rolling Stone reporter Nancy Dillon, the Playboy artist reportedly violated a protective order in the Megan Thee Stallion case.
In a series of tweets, the reporter shared how the 'Say It' singer was "handcuffed in court" and will be held in custody until he posts bail of $350,000. Judge David Herriford found him in violation of "discovery protective order" and "personal contact order."
This ruling comes from the series of tweets Lanez wrote which were allegedly targeting the Good News rapper. The judge heard nearly an hour of arguments about some of the Daystar musician's tweets, to which some were "clear messages" to Megan.
A new condition has been added to Tory's release, where he is "not to mention the complaining witness in this case in any social media," with a trial date set for September 14th.
In February, on-air personality DJ Akademiks tweeted about Lanez's DNA not being found on the gun used on the Sweetest Pie musician.
But Lanez's lawyer, Shawn Holley, argues the rapper never provided DJ Akademiks with any information regarding the case before the podcaster's tweets.
Dillon did confirm that Lanez's lawyer has confirmed the swab on the gun came back "inconclusive" with four contributors because Lanez never submitted his DNA.
BET.com will continue to share updates as the story develops.