Tupac Shakur Honored with Oakland Street Named After Him
"Let his spirit live on the rest of these years in these streets and in your hearts," the rapper's sister shared.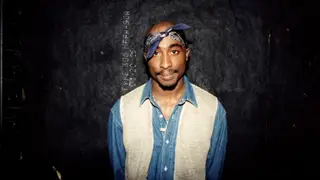 Tupac Shakur now has an Oakland, Calif. street named after him.
Twenty-seven years after the death of the Hip-Hop icon, a portion of MacArthur Boulevard close to his 1990s residence was renamed Tupac Shakur Way. The renaming ceremony and sign reveal on Friday (Nov. 4) was attended by his family members and celebrities including Oakland native MC Hammer.
"Let his spirit live on the rest of these years in these streets and in your hearts," said Shakur's sister Sekyiwa "Set" Shakur through tears, per the Associated Press.
"Hands down, the greatest rapper ever, there's not even a question of that," MC Hammer said.
The "2 Legit 2 Quit" rapper spent a significant amount of time leading up to Shakur's shooting death at the age of 25 in 1996 alongside him.
Money-B and Oakland hip-hop legend Too Short also attended the ceremony.
Born in New York and raised in the city and in Baltimore, Shakur relocated with his mother Afeni Shakur to the Bay Area in the late 1980s. In the early 1990s, he resided in Oakland, considering it his adopted hometown.
"He claimed Oakland," stated City Councilwoman Carroll Fife, who spearheaded the street renaming initiative. "He said Oakland gave him his game."
The event took place the day following a not guilty plea from Duane Keith "Keffe D" Davis, the former leader of a Southern California street gang. He is facing charges of orchestrating the shooting in connection to the murder of Tupac. Davis is the sole survivor of the vehicle that discharged the fatal shots.
Remarkably, nearly three decades after the tragic incident, Davis is the only person ever formally charged in connection to the crime.
According to prosecutors, the murder of Shakur in Las Vegas was the result of a rivalry between East Coast factions of a Bloods gang division and West Coast factions of a Crips division, including Davis, vying for supremacy in the genre known as "gangsta rap," per CBS News.
The grand jury heard that the Sept,  7, 1996 shooting was an act of retaliation for a brawl involving Shakur and Davis' nephew, Orlando "Baby Lane" Anderson, that occurred a few hours earlier at a casino on the Las Vegas Strip
Shakur's family has maintained a level of separation from the legal proceedings, making only a brief mention of it on Friday. Sekyiwa expressed that her brother "died at 25 years old in gang violence, at the hands of another Black man, through the planning of another Black man, whoever that man may be."