Shemar Moore: 'If You Think I'm Gay, Send Your Girlfriend Over to My House'
The actor talks his new film and old flames.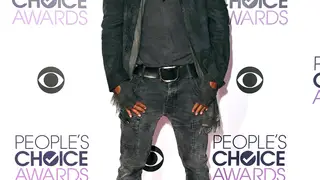 It's been a big year for Shemar Moore.
The actor left the hit prime time procedural Criminal Minds after eleven years and leapt headfirst into producing his first independent feature film, The Bounce Back. The film stars himself as a relationship expert who is unlucky in love, Bill Bellamy as his best friend and Nadine Velazquez as a talk show host-turned-love interest. The film seems to be right in line with the resurgence of '90s-style Black rom-coms that have swept the box office and looks poised for success.
But the path to the big screen wasn't easy. After many closed doors in Hollywood and a couple of crowdfunding campaigns, The Bounce Back hits theaters today — and how it does at the box office will determine the fate of the television actor's career. Either way, Moore tells us in our exclusive interview, it was worth it. 
Of course, it wouldn't be a conversation with Shemar if he didn't spill a little tea about his love life. We got the actor to open up about the backlash he faced from Toni Braxton for sharing details of their "fling" the last time we spoke and also address the gay rumors that seem to have taken hold of his social media mentions. Keep scrolling for our candid conversation with the veteran star.
Tell me a little about the movie and why, at this point in your career, you wanted to take the leap to producing.
This movie is just a simple, fun, feel-good movie about love and relationships, parenting and friendship. Whoever you are, however old you are, whatever color you are, wherever you're from, you're gonna be able to relate to something or somebody in this movie, and all I want you to do is come get your laugh on. Especially with what's going on in the country — and I'm not about to talk politics — let's all come together, let's not be scared of each other, let's not judge each other, because there's one thing we've all got in common is we all believe in love.
But as far as the producing aspect, I shot this script around town, and it got lukewarm reactions. Nobody really jumped at it, and I just thought to myself, "I know I believe in me, I believe in the career I've had, I believe in my talent, I believe in the script. I think it's a good story." I have friendships [in the industry] and that's where Bill Bellamy came from, that's where Nadine Velazquez came from. Michael Beach did me a solid, Kali Hawk did me a solid, Sheryl Underwood did me a solid. Nobody got rich off this movie. I had a few nickels to give everybody and everybody just came together.
You play a relationship expert in the film. In the course of your life, what is the most important thing you've learned about relationships?
For me, it's ... celebrate yourself. Don't settle. And when you find the companionship where you can lift each other up, and where you can be friends, where you can be cheerleaders for each other, embrace it.
Speaking of relationships, last time we spoke, you talked a little bit about your fling with Toni Braxton back in the day. She was upset by what you said. Do you have any regrets about that and have you two spoken since?
No, I haven't. I've seen her sister and her mother, and I don't regret ... The only thing I regret is that it was interpreted by her or whoever. I don't know to this day how she felt. I didn't mean anything maliciously. I never mean to offend anybody. I'm not above anybody. I'm grateful for my time with anybody that I've had a relationship with, because that's how I grow, that's how I learn. So my time with Toni, it was nice, but it was very brief. So if anybody's offended by anything I said ... that wasn't my agenda. Besides, I saw [Toni's mom] at the Emmys, she gave me a hug, so I think we're all right. 
I have to ask you about the gay rumors that keep popping up. You often take to social media refute these rumors. Why do you feel the need to address them?
I just think it's all silly. If you're gay, you're gay. I'm not, and I know that and I'm very comfortable with who I am and I love women. I've dated plenty of them. If you think I'm gay, send your girlfriend over to my house for the weekend and see what happens. For real. You can call that arrogant if you want to. I just call it confident. You can call me whatever you want, but you don't know me. 
I have fans that are gay, men that come up to me, and they're inspired by me, or they like me as an entertainer, and when they want to give me a hug or take pictures with me, what, am I supposed to not put my arm around them or stand next to them, and if the man next to me in the picture is gay, that makes me gay? That's just simpleminded ignorance, and I don't play that. 
The Bounce Back opens nationwide on Friday, December 9. Check out the trailer for the film below:
See Shemar Moore talk about looking for love on the Wendy Williams Show above.