Moving on Up? T.W. Shannon Sets His Sight on the US Senate
Tea party favorite T.W. Shannon could become the Senate's second Black Republican.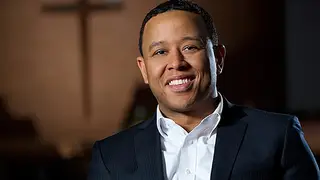 Four years ago, few people outside of Oklahoma had heard of T.W. Shannon. Then in 2013, he made history when he was elected to serve as House speaker in the state legislature, the first African-American, and at age 34, the youngest member, to achieve that goal. Shannon also was the answer to Republican National Committee chairman Reince Priebus's dreams as he launched the party's effort to attract more Blacks to the GOP.
Now Shannon, who is an enrolled member of the Chickasaw Nation, is on one side of one of two U.S. Senate races being closely watched nationwide. Like Mississippi, without the hijinks the contest between Shannon and U.S. Congressman James Lankford for the seat being vacated by the retiring Sen. Tom Coburn, pits a Tea Party favorite against a more establishment figure.
Lankford is a member of the House GOP leadership and has built an impressive campaign war chest, while his opponent has won support from the likes of Texas Sen. Ted Cruz and former Alaska Gov. Sarah Palin, as well as the Senate Conservatives Fund, a group that backs candidates who share its Tea Party values.
Former Oklahoma congressman J.C. Watts, who recently endorsed Shannon, told BET.com that four years ago, when Lankford "was a political nobody and ran against two state legislators" for the seat he currently holds in Congress, he supported him.
"Here we are down the road for the U.S. Senate race. I couldn't sit this one out. I've known T.W. for the past 18 to 20 years. He's worked for me. I know his parents and his family," Watts said. "We've worked together. We've prayed together. He's babysat and cooked for my kids. This really is as personal a relationship as one could have."
The two candidates will square off on June 24 with other candidates and if neither reaches the 50 percent threshold, they will meet again in an August run-off election.
Shannon, 36, got his first taste of politics right after college when he worked on Watts's congressional campaign.
"I hadn't followed politics very much, but I came across his office and literally walked through the door. He happened to be there that day and we struck up a conversation and friendship, and started working for him the next month," Shannon told BET.com. "So that's kind of when I first got the [political] bug."
When Watts retired from Congress, Shannon went to work for his successor, Rep. Tom Cole. A few years later he ran for a seat in the Oklahoma House and became the first Republican to represent the Lawton district. The city is in the southwestern part of the state and boasts a large military community. As a result, it has one of the most diverse populations in the nation, Shannon says.
Most of the African-Americans are Democrats but enough crossed the ideological line for Shannon, which enabled him to carry the Black vote.
"It's partly because my dad's from there, so they weren't voting for some unknown figure who was trying to convince someone who he was. They were voting for Mel's grandson and Wayne's son, and my wife and I both grew up in Lawton," he explained.
Like many Republicans, Shannon believes that the African-American community, despite its close affiliation with the Democratic Party, is innately conservative, particularly when it comes to social values. And values are what attracted him to the GOP.
"It was an easy decision when I took the time to compare my values or even when I think about solutions," he said. "Conservative principles are what lead to prosperity. If you look at it from an economic or historical standpoint, if you're really interested in helping people, which is the way that I approach governing, then you can't deny that the system that has done more for lifting people out of poverty is capitalism. It's the free market. It's the ideas of entrepreneurship."
Those kinds of principles, he says, lead to strong families in which people get married and stay married.
When approached about running for Coburn's seat, it was one of the furthest things from his mind because his wife had just successfully completed breast cancer treatment. Then one day, as he sat indoors watching a documentary about Martin Luther King Jr. on television near an open window featuring a view of his father teaching his 5-year-old son how to ride a bicycle, "it hit him like a ton of bricks."
"When my dad was a young man, he had to drink out of a separate drinking fountain. My children can't even imagine a world like that and it wasn't that long ago. In one generation, our country has come so far on such an important issue that was so ingrained into the fabric of our country — being separate but equal — not just the law but the mentality that existed," he recalls.
At that moment he realized that if the nation could come so far on civil rights, "fixing our fiscal problems is not nearly as big a chore." That's when he decided to run.
If elected, Shannon says he'll bring "discipline and good ol' Oklahoma common sense" to the U.S. Senate. His greatest strengths, he adds, are a record of coming up with conservative solutions and his ability to communicate.
Shannon, who, with his wife, runs a small public relations firm, says messaging is key.
"As a party, our challenge has been that we're content with just being right on the issue. We're right on life, taxes, defense and all the issues, but it's not enough," Shannon said. "You've got to be right and convince other people why you're right. You've got to be able to explain to people who think and see the world differently than you and be able to convince them why your values matter and how they will positively impact their life."
When asked whether Shannon is flexible enough to serve in an already fractured Senate, Watts pointed to the relatively short political careers of both candidates.
"When you get to the table and you get the facts and peel the onion, you [realize] that 'Ooh, this is a little different than what I campaigned on,'" he said.
It's a lesson that Lankford had to learn and "T.W. is going to find himself in the same position if he is elected," the former congressman said.
But when it comes to his principles, Shannon says, there is no compromise. He is, however, willing to work with everybody and might even be willing to to turn the odd couple of Senators Tim Scott (R-South Carolina) and Cory Booker (D-New Jersey) into a political ménage-a-trois.
"I want to work with whoever is committed to reducing the debt, reducing the spending and opposing the liberal agenda of government expansion," Shannon said. "If anybody, including those two gentlemen, can find solutions to work toward those goals, you bet."
BET Politics - Your source for the latest news, photos and videos illuminating key issues and personalities in African-American political life, plus commentary from some of our liveliest voices. Click here to subscribe to our newsletter. 
(Photo: courtesy T.W. Shannon for Senate Campaign)