Bree Runway: 5 Things To Know About The Genre-Bending British Pop Star
BET's Amplified Artist of May transcends all labels.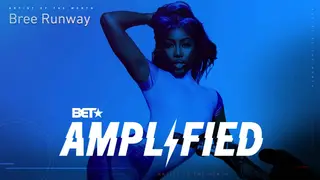 Brenda Wireko Mensah, known professionally as Bree Runway, transcends all labels as an artist with her skills, charisma, and creativity. The genre-bending British pop star has been making major waves on the music scene across the pond and in the States. Her magnetic style and unapologetic embrace of her Black Girl Superpowers propelled her into being a sought-after artist on the rise.
Since the release of her major-label debut EP Be Runway 2021 and 2000AND4EVA, her debut mixtape with features from Missy Elliott, Yung Baby Tate, Rico Nasty, and Maliibu Miitch, she is primed to be one of the next superstars in Hip Hop.
With her highly anticipated debut album in the works, here are five things you need to know about Bree Runway, BET's Amplified artist of the month.
Bree Runway Got Her Name From Her Cousin

Bree says her stage name was a gift from a family member. "A really cool cousin of mine Facebook's name was Runway Pedro and I just thought that was super cool," she tells BET.com. "Growing up, his style was and still is really amazing. I remember at one family party, I just wanted everything of his. I wanted his Louie V shades that were so stylish. Then, he sat me down one day and was like, 'I'm going to give you something.' I thought it was like clothes or something and he was like, 'No, the name. I'm just going to give you Runway.' I was like, okay, but then nothing. Then, I added it to my Facebook name and it just became really long. I chopped it down to Runway and now it means that I'm completely picking up."

She Believes In Divine Manifestation

Bree credits her belief in God, prayer, and divine manifestation to her success. She believes that being intentional about what you want and the entire universe will conspire to bring it back to you. "Sometimes I really believe in something and I'll always take it up to God ... cuz I always meet God halfway," she says. "You got to do the natural and God will do the super, you know, and when it comes together and it's always beautiful. You just have to have faith and back it with hard work and happen."

Her EP 'Be Runway' Was Her First On A Major Label

After signing with EMI Records in 2019, Bree released her scorching hot EP Be Runway, making her major label debut. The 5-track offering features the previously-released Big Racks and 2 On, plus three more new tracks that she penned. Bree proved that her musicality was of a kind by mixing genres and various sounds that set her apart from everyone else in the game.

Her Dance Style Was Influenced By African House Parties

Besides her singing, rapping, and songwriting prowess, Bree's dance moves are top-notch. While she listed Janet Jackson, Lady Gaga, and Grace Jones as models in dance, it was her time as a child in the family's house parties that shaped her unique style. As a descendent of Ghana, her style of dance comes directly from the continent. "My dancing is definitely influenced by African house parties that loosen me up over the years when I was eight years old," she says. "Just trying to mimic my Aunties and I kind of learned the flow from there."

Collaborating With Missy "Misdemeanor" Elliott Is The Highlight Of Her Career

Bree's creativity has drawn comparisons to Missy "Misdemeanor" Elliott, and from early on in her musical journey, she knew she would eventually connect with Missy. "To be honest, I did say to someone in May 2020 or something, I was like, 'Screenshot this text to me. Missy and I are gonna make songs,'" she recalls. Less than a year later, not only did she have Missy co-sign her, but collaborated on her track "ATM."