Wyclef Jean Said MLK Fought for 'All Lives Matter' and the Internet Flipped
Bold move indeed.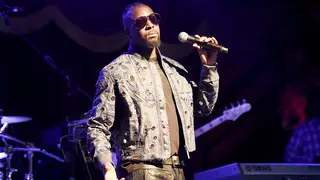 Former Fugees member and Haitian-born rap vet Wyclef Jean landed a number-one spot on the internet's bad side on Monday (Jan. 16), which not-so-coincidentally happened to be the venerated Martin Luther King Jr. Day.
And judging from the disappearance of his "all lives matter" tweet that started it all, we're sure he understands exactly why. 
In the now-deleted comment, the "Two Wrongs" rapper connected Martin Luther King Jr.'s revered civil rights fight to the highly controversial "all lives matter" rhetoric.
"Martin Luther King Jr. fought because all lives matter," he wrote in the tweet, accompanied by his default photo of the iconic activist and church minister.
The tweet served as a caption for what appears to be a news clip reporting an incident in which an L.A. County judge was murdered, 11 police officers were shot and four officers were killed. He then proceeded to share another clip of his "all lives matter"-supportive "Life Matters" song and video, which received equal treatment during the Twitter backlash.
But aside from "all lives matter" being widely recognized as a rebuttal to the Black Lives Matter movement, Jean's thoughts come as a shocking paradox considering his recent "Redemption Song" performance. Sang beside Rachel Brown, the song was performed at a BLM movement event in July 2016.
"I wrote and rewrote this post many times, but at the end of the day, nothing I can say will compare to the way Wyclef so simply and powerfully addressed #BlackLivesMatter with an impromptu verse on 'Redemption Song'," Brown wrote in her YouTube description of the video.
Tack that onto his opinion shared with the Root on "idiots" who question the premise beneath the Black Lives Matter movement and we've got ourselves some confusion going on with Wyclef.  
Check out his tweet and Twitter's reminder that he won't be living the commentary down so quickly below.