Sad News About Venus and Serena Williams's Dad
Here's what the latest reports are detailing.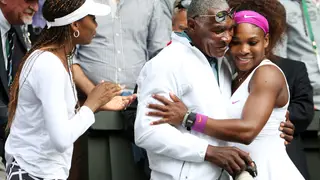 It was heartfelt, especially considering the latest reports about Richard Williams's health.
According to Radar Online, Richard Williams, 74, recently suffered a stroke and is experiencing memory loss, having been released from the hospital last week.
"His condition is fair — he's walking around, but he's not at 100 percent," his wife, Lakeisha Williams, told Radar. "He needs speech therapy, psychological therapy and physical therapy but for now he refused. I'm trying to get him under control and relaxed so that when we come back from out of town we could try to get that going. But he doesn't wish to be bothered with anybody."
She added: "His mind is thinking that they're going to put him back in 'prison' — which is what he calls the hospital. He thinks we are just going to take him back to the hospital, but that is not correct."

Let's hope Venus and Serena's dad makes a full recovery soon.
BET Sports News — Get the latest news and information about African-Americans in sports, including weekly recaps, celebrity news and photos of your favorite Black athletes.