Say What! Curvy Women Shouldn't Wear Herve Leger?
Black bodies helped make this dress popular again.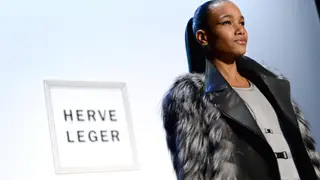 When I was coming up in the nineties, I loved the fashion I saw on the runways and in Vogue and Elle. No, I couldn't (and still can't) afford any of these clothes, but that didn't stop me from consuming these images. Something about seeing high-end fashion made this dorky teen feel glamorous. And while I loved designs from the likes of Ralph Lauren and Donna Karen, there was one dress that made me lose my absolute mind: The sexy as hell bandage dress from Hervé Leger.
But like in fashion, trends come and go and this dress's visibility began to dwindle in the fashion mags. And then something happened. In 2007, the dresses were relaunched, making a major comeback with curvy celebs such as Rihanna, Serena Williams, Nicki Minaj, Nene Leakes and Kim Kardashian leading the trend. And then, before you knew it, it seemed like EVERYONE was rocking these $1,250 dresses on the red carpet, at a nightclub (and strip club) or on the set of a reality show.
These dresses were everywhere and hugging Black women's curves for dear life.
Now, granted we can't take all the credit for the dress's newfound popularity. White women were rocking these dresses, too. But let's not act brand new and pretend that we didn't have a hand in that. Because we all know that not only are Black folks utter magic, we are major trendsetters, too. So much of what we do, what we wear and how we speak spark cultural tidal waves—from cornrows to baby hair to Afros, everyone wants to be us, mimic us and bathe in our culture. And yet, we are rarely ever given credit for it.
The same can be said for the Hervé Leger dress.
In a recent interview with The Mail, Patrick Couderc, the UK managing director of the French fashion house, came all of the way out of his mouth claiming that these dresses weren't made for certain women. He said that women with "very prominent hips" and "voluptuous" figures shouldn't wear these dresses. He also said that these dresses are not for lesbians, older women or women with little breasts.
And yes, fashion is notorious for being sizeist and not making clothes that fit real bodies, but even in that, Couderc is doing the absolute most here. And while he doesn't come out and say anything about Black female bodies per se, we all know what playbook he is reading from. The same one that loves to call Serena Williams "manly," Misty Copeland "fat" and Viola Davis's beauty "unconventional." And it's so ridiculous; because he should be thanking folks because it's these same voluptuous bodies he is shaming that helped bring his company's property value back up.
I guess Couderc didn't get the memo, but perhaps he might if the curvy women of the world decided to take their money elsewhere to other companies that appreciate our bodies and our business. Let's see how fast he'll be changing his tune then when he realizes that he needs us more than we will ever need him.
The opinions expressed here do not necessarily reflect those of BET Networks.


BET.com always gives you the latest fashion and beauty trends, tips and news. We are committed to bringing you the best of Black lifestyle and celebrity culture.
Click here to enter the #LookYourSundayBest contest for a chance to win FREE natural hair-care products.

(Photo: Andrew H. Walker/Getty Images for Mercedes-Benz Fashion Week)