Cynthia Bailey Reveals The Physical And Mental Struggles Of Having Fibroids For 14-Years: 'I Was In A Dark Place'
The reality star and businesswoman partnered with USA Fibroids Centers to educate other women about their options.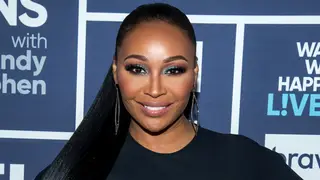 Cynthia Bailey is opening up about her 14-year struggle with fibroids, along with the non-invasive surgery she underwent nearly a decade ago that ultimately changed her life. Keep scrolling to learn why the reality star and businesswoman partnered with USA Fibroids Centers to educate other women about their options.
While chatting with People Magazine, the former Real Housewives of Atlanta star revealed that fibroids hindered her everyday life.
"My periods were always super heavy," Bailey shared about the daunting experience of having to change her tampon every one or two hours. "Work wise it was very difficult to even work the first two or three days of my cycle because my bleeding was just so heavy. I was anemic, so I had no energy, very low sex drive."
She continued, "It not only affected me. It was affecting my family, my husband, my sex life," she explained. "I was moody. I was exhausted. I was anemic. I was bleeding all the time. I was a disaster."
Bailey went on to share that fibroids not only affected her physically but also mentally.
"It's very hard to be in a good space mentally when you're bleeding all the time and when you don't have any energy, and you're anemic and you don't have the sex drive you used to have," Bailey explained about the experience of having benign tumors growing in her womb.
The 55-year-old continued, "Mentally, I found that I was just in a dark place without really knowing I was in a dark place. When I look at photos of myself during that time, it was like the light was gone because I was bleeding to death in a lot of ways."
Bailey first found out she had a fibroid "the size of a grape" when she was pregnant with her daughter Noelle Robinson, who is now 22.
After doing some research, Bailey personally opted for uterine fibroid embolization (UFE), a minimally invasive treatment that can be performed by an interventional radiologist in about 40 minutes, instead of a hysterectomy.
"I wanted to be open to having more children if I wanted to," she explained about her decision against having a hysterectomy to treat her fibroids. "Even if I didn't want to, I just wanted the option."
Two or three months after getting UFE, Bailey says her menstrual flow went from eight to nine days to just three to four. According to radiologyinfo.org, "studies have shown that nearly 90 percent of women who undergo UFE experience significant or complete resolution of their fibroid-related symptoms."
She went on to caution others to know their options before committing to a fibroid solution, expressing, "I use my celebrity to keep the information out there for women to understand that they do have options and they do not have to suffer in silence [...] And they do not have to have their uterus removed to deal with their fibroid situation. That should be a last resort if it even needs to happen at all."
We appreciate the supermodel's transparency about the topic. We need it! And to those who are suffering from fibroids, do your research and find comfort in knowing that you are not alone, there are people and resources here to support you.