Rapper Kidd Creole Found Guilty Of Manslaughter
The hip hop legend reportedly killed a homeless man.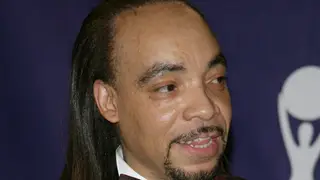 Rapper Kid Creole, who was part of Grandmaster Flash and the Furious Five, has been found guilty of first-degree manslaughter for fatally stabbing a homeless man.
According to Deadline, Creole's trial began on April 1. The  62-year-old was found guilty on April 7 and is facing up to 25 years in prison.
According to reports from the New York Daily News, Creole, real name Nathaniel Glover, fatally stabbed a homeless man named John Jolly on August 1, 2017
Glover reportedly got into an altercation with Jolly after he suspected that Jolly was making sexual advances at him.
The New York Daily News also stated that Jolly was living out of a homeless shelter in NYC. According to state corrections records, he served five years in prison for the 1997 assault and rape of a 42-year-old woman and was registered as a level 2 sex offender.
Prior to his run-in with Glover, witnesses noted that Jolly was intoxicated during the time of the altercation, which may explain why bystanders who phoned the police originally thought he had fainted, law officials told NY Daily News. Once authorities arrived and found the stab wounds in Jolly's chest, he was immediately sent to Bellevue Hospital Center. Jolly succumbed to the injuries at the hospital and Glover was arrested on murder charges.
Nathaniel Glover is scheduled to be sentenced May 4.