Serena Williams Is Crowdsourcing For Mom Advice On Breastfeeding
She shares a sweet message on the joys of mommyhood.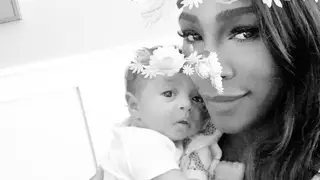 Serena Williams, the world's greatest athlete, is figuring out motherhood just like any non-celebrity: by asking other moms what's really good. 
It would seem that no matter your level of privilege, class or number of zeros in your bank account, parenthood truly is the great unknown. And so, when puzzled about one aspect in particular, Serena took to Twitter to crowdsource some opinions.
Yesterday she shared a sweet photo of her beautiful baby Alexis Olympia and wrote, "Fellow moms: How long did you breastfeed? Is it weird that I get emotional when I even just think about when it's time to stop?"
While opinions may run the gamut, one thing's for certain: breastfeeding truly is a beautiful bond between mom and baby that can for sure drum up a lot of emotions. There's no one-size-fits-all approach when it comes to a "normal" length of time to breastfeed one's baby. Some moms may wanna cut it off ASAP so they can resume their pre-preggo lifestyle, including consuming alcohol, while others may breastfeed until the last drop (sorry for the visual) — after all, breastfeeding following birth has been cited as one of the healthiest and most sustainable ways to lose baby weight.
Serena's not the only celeb mama asking the Twitterverse for answers. Just last week, Chrissy Teigen took to her favorite platform to ask if it was normal for her to put on weight quicker while pregnant the second time, as shown above. 
Crowdsourcing mom advice? Stars are just like us!