Leslie Jones Slams SNL in New Memoir
The SNL alumna says the show turned her into a 'caricature' of herself.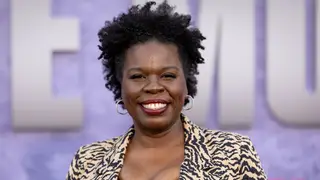 In an interview with NPR promoting her new memoir, Leslie F*cking Jones, comedian Leslie Jones shared some of her more unsavory experiences as a writer and cast member on "Saturday Night Live."
"Either I'm trying to love on the white boys or beat up on the white boys, or I'm doing something just, like, loud," Jones said.
When interviewer Tonya Mosley asked Jones if she felt like a "caricature," the 56-year-old comedian explained, "I've been doing comedy so long, it's like, I know what I am...at SNL, they take that one thing and they wring it. They wring it because that's the machine. So whatever it is that I'm giving that they're so happy about, they feel like it's got to be that all the time, or something like that".
"So it was, like, a caricature of myself, you know what I'm saying?"
Jones explained that the writers didn't just pigeonhole Black cast members, but would focus on writing certain cast members in popular skits.
"Taran (Killam) wanted to do so much other stuff, but they would only have Taran in those very masculine [roles] and singing and stuff and I said, 'Oh! This is a machine,'" she said.
Jones also expressed appreciation for "SNL's" creator in the interview.
"I used to always be like, [executive producer Lorne Michaels is] the puppet master," she said. "So he has to make the cast happy, has to make the writers happy, he has to make the WGA happy, he has to make NBC happy. Then he has to make a family in Omaha, Nebraska who's watching the show happy. Imagine the strings that have to go out to him. So it's a machine that has to work."
Jones is the oldest person ever cast in the show. As a popular member of the ensemble, she racked up three Emmy nominations and has had a successful career since leaving the show in 2019, including starring in a remake of Ghostbusters.
In her memoir, Jones also reflects on her career as a comedian, including her commitment to physical comedy.
"I done fell off stages. I done fell off tables. I fell off chairs," she writes. "Like I always tell everybody, don't try to reinvent comedy. Comedy is all its own entity. ... Slipping on a banana will be one of the funniest physical jokes."