Kerry Washington Considered Suicide While Struggling with 'Toxic' Eating Disorder
The Emmy Award-winning actress admits that she struggled with body dysmorphia.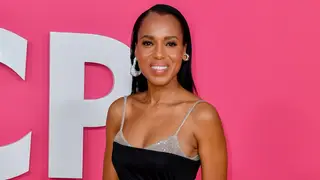 Actress Kerry Washington made a bombshell revelation that she struggled with a "toxic" eating disorder that prompted her to contemplate taking her own life.
"I could feel how the abuse was a way to really hurt myself as if I didn't want to be here," Washington told ABC's Robin Roberts in a new "20/20" interview to air on Sunday (Sept. 24). "It scared me that I could not want to be here because I was in so much pain."
When Roberts asked directly if she had contemplated suicide, Washington replied, "Yeah, yeah."
"The behavior was tiny little acts of trying to destroy myself," she said.
The Emmy award-winning actress explained that she struggled with body dysmorphia despite being "high functioning" in other areas of her life. She said that "the food took [her] out" with "body dysmorphia" and "body hatred … beyond [her] control."
"It really led me to feeling like, 'I need help for somebody, or something, bigger than me because I'm in trouble, and I don't know how to live with this,'" Washington said.
Washington said she currently has a "different" relationship with food and that she doesn't experience "suicidal ideation" anymore.
"The bottom has gotten a lot higher where just a little discomfort with it is enough for me to know this is a way to check myself," she said. "But it definitely looks a lot healthier. It's a lot easier. It's a lot saner than it used to be."