'Good Times' Actor Johnny Brown Dies
Revered for his role as Nathan Bookman, the actor passed away at the age of 84.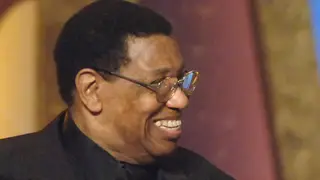 Johnny Brown, an actor and comedian best known for his role on the iconic Norman Lear-created sitcom Good Times, reportedly passed away on March 2. He was 84.
Brown's daughter, Sharon Catherine Brown, announced the news of his death via Instagram on Friday (March 4). It's unclear how Brown died, however his daughter revealed in the IG post that it came as a "shock" to his family.
Brown played Nathan Bookman for several seasons on Good Times, opposite Esther Rolle, John Amos, Jimmie Walker, and Bern Nadette Stanis.
"Our family is devastated," the daughter writes, in part, on IG. "Devastated. Devastated. Beyond heartbroken. Barely able to breathe. We respectfully ask for privacy at this time because we need a minute to process the unthinkable. To articulate the depths of profound sadness."
Sharon Brown adds that Johnny meant so much to their large family and that his death was completely unexpected.
"Dad was the absolute best," she concluded. "We love him so very much."
THR reports that when Brown was younger he won amateur night at the Apollo Theater and later performed with Gregory Hines Jr. and Sr. He also appeared on Broadway two times during the 1960s and was a regular for three seasons on Dan Rowan and Dick Martin's Laugh-In.
During his later career years in acting, Brown appeared on many Black sitcoms, including Family Matters, Sister, Sister, The Jamie Foxx Show, The Wayans Bros., and Martin.
The New York Daily News notes that Brown was born in Florida and grew up in Harlem. He was married to his wife June for 61 years and had two children, Sharon and John Jr.