2023 NAACP Image Awards: See Why These 'Entertainer of the Year' Award Recipients Rightfully Earned Their Title
EGOT winner Jennifer Hudson took the prestigious honor during last year's ceremony.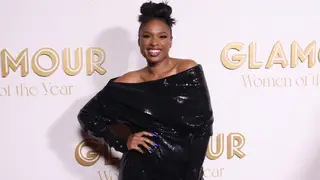 Last year, multi-talented talented singer, songwriter, and Academy Award-winning actress Jenifer Hudson was the recipient of the esteemed "Entertainer of the Year" Award at the 53rd annual NAACP Image Awards that recognize the contributions of Black entertainers.
The moment came on the heels of Hudson's stunning performance as her idol and soul icon, Aretha Franklin, in the film Respect.
Those who received the prestigious honor have proven success in the field. Winners have included  D-Nice, Lizzo, Dionne Warwick, and the late Whitney Houston,  the latter of which was recognized twice, from 1995 to 1996.
In honor of this year's upcoming celebration of Black excellence, we're looking back at past award winners and the work that earned them their distinguished trophies.
Kevin Hart

Comedian and actor Kevin Hart quickly earned his Entertainer of the Year award in 2014 following an impressive theatrical year appearing in five projects, including Ride Along with rapper turned actor Ice Cube, About Last Night, and Think Like a Man Too.

Jamie Foxx

Comedian, singer and entertainer Jamie Foxx did not appear to have plans of slowing down after he made his feature film debut in 1992 with the fantasy comedy Toys, starring the late Robin Williams.  Since then, he's starred in significant projects, including Bait, Dreamgirls, the biographical musical drama film Ray.

The film earned him the Academy Award for Best Actor as well as the Golden Globe, BAFTA, Screen Actors Guild, and Critics' Choice, becoming the second actor to win all five major lead actor awards for the same performance. So it was no surprise when the heavily talented star was honored with the "Entertainer of the Year" Award at the 2013 NAACP Image Awards.

Lizzo

Many might want to forget the year 2020 and everything it had to offer, COVID-19 and all. However, amid uncertainty, one thing was clear: Lizzo is a star. The singer-songwriter earned dozens of nominations and wins across musical ceremonies, including the 2020 NAACP Image Award for "Entertainer of the Year."

Watch the NAACP Image Awards live on Saturday, February 25, 2023, at 8:00 pm ET/PT on BET.