BET Awards 2022: Get to Know Diamond Platnumz, the Tanzanian Artist That's Been Blazing Up the Music Scene
Here are five things you might not know about the singer and dancer.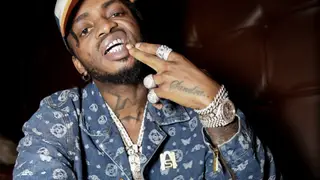 Tanzanian musician Diamond Platnumz's rise to international stardom has been in the works going on 12 years now, thanks to uptempo tracks accompanied by blockbuster music videos such as "Nana," "Kidogo," and most recently "Gidi." The 32-year-old's efforts have earned him over five dozen awards and nominations including one for "Best International Artist" at the BET Awards 2021.
Ahead of this year's BET Awards 2022, hosted by actress Taraji P. Henson on Sunday, June 26 at 8 p.m. ET/PT, we're looking back at some of our favorite winners and nominees including Diamond Platnumz. Here are five things you should know about the global sensation hitting up the Tanzania music scene.  –Additional reporting by Charles Maganga
He's an entrepreneur

Aside from musicianship and dance, Diamond Platnumz is also in the television business. In 2018, he launched his own TV station named Wasafi TV and a few months later added Wasafi FM to his media catalog.  Television programs include Masham Sham, The Switch, and Mgahawa Wasafi FM covers politics, entertainment, current affairs, and documentaries.

He's highly decorated

Since his career began in 2010, the singer has earned over five dozen awards with 68, according to NotJustOk East Africa. He is also reportedly the most awarded artist in East Africa and the 5th most awarded artist in Sub-Saharan Africa after Wizkid, Sarkodie, Davido, and 2face Idibia.

He left school to pursue his dreams

When he was roughly 17-years-old, Diamond dropped out of school after completing secondary education. The star started doing odd jobs such as selling second-hand clothes and working in a gas station. He used the money he earned to fund his music career.

He racked up several endorsement deals

It's relatively known that in the music industry, a large portion of an artist's income is garnered through touring and partnership deals. NotJustOK East Africa reports that Diamond Platnumz is one of the most endorsed artists in East Africa, working with big brands across the globe such as Cocacola, Bel Air, and Pepsi.

He initially started out as a rapper

A little over a decade before becoming the hottest sensation in Tanzania, Diamond Platnumz started his music career as a rapper with songs such as "I hate you," featuring Hemed PHD, and "Jisachi," featuring Tanzania's most prominent rapper at that time, Mangwair.

 Tune into the BET Awards 2022 Sunday, June 26 at 8 p.m. ET/PT on BET.