BET Awards 2022: Host Taraji P. Henson Came to Slay and Entertain
Let's take a walk down memory lane to highlight the fashions worn by our amazing host!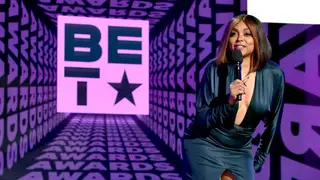 As host of the BET Awards 2022, Taraji P. Henson was tasked with keeping the show on track and entertained. An added plus for the viewers were her many wardrobe changes. Taraji seemed to match her outfits with the tone of the segment giving us plenty to gush over. Let's look back at some of her most memorable looks from the show.
Taraji dresses up a floral jumpsuit with a long flowing off the shoulder cape

Taraji P. Henson wore this multicolored feathered gown with long tresses and strappy sandals

Taraji P. Henson kept her accessories simple in this black gown with cutouts

Taraji P. Henson's blonde hair pops against this colorful short dress

Taraji P. Henson opened the show with a sleek bob on top of a gold embellished gown