BET Awards 2022: A Look Back at 5 of the Hottest Mariah Carey Collaborations Ever
Did you catch the Grammy Award-winning singer's surprise performance with Latto?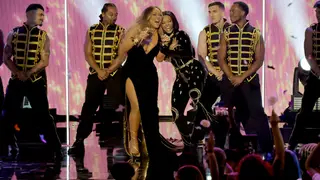 Mariah Carey is regarded as one of the first pop artists to start collaborating with hip-hop artists. Over her long career, the Grammy Award-winning singer has partnered with some of the most legendary acts in rap, creating one iconic track after another.
In honor of her surprise appearance at the BET Awards 2022 performing alongside "Best New Artist" winner Latto for their latest track, "Big Energy" remix, take a look at five of the hottest Mariah Carey collaborations over the years with five classic hits.
"Fantasy" (Remix) Feat. Ol' Dirty Bastard

Following the release of "Fantasy," which served as the lead single from her fifth studio album, Daydream, Mariah teamed up with Wu-Tang legend Ol' Dirty Bastard for a hip-hop-influenced -Bad Boy remix. The track was produced by  "Lifetime Achievement Award" honoree Sean "Diddy" Combs. He further amplified the iconic "Genius of Love" sample used in Mariah's duet with rapper Latto.

"Loverboy" (Remix) Feat. Da Brat, Ludacris, Twenty II, and Shawnna

Mariah called upon longtime friend Da Brat along with  Ludacris, Twenty II, and Shawnna for the remix to her 2001 classic record "Loverboy." The track appeared in her film Glitter, which starred collaborator Da Brat.

"Honey" Feat. Ma$e and The Lox

"Honey" is the lead single from the songstress's sixth studio album Butterfly and was produced by legendary music executives Diddy, Q-Tip, and Stevie J  and features Bad Boy alums Ma$e and The Lox. The single earned two Grammy Award nominations at the 40th annual ceremony for "Best Female R&B Vocal Performance'' and "Best R&B Song."

Busta Rhymes & Mariah Carey "I Know What You Want" Feat. Flipmode Squad

Off Busta's sixth studio album, It Ain't Safe No More, this 2002 banger featured the award-winning singer and Busta's Flipmode Squad: Spliff Star, Baby Sham, Rah Digga, and Rampage. The "Make It Clap" emcee and Mariah reunited in 2021 once more for the track sequel "Where I Belong."

"Obsessed" Feat. Gucci Mane

The song was written and produced by the singer Tricky Stewart and The Dream and was released as the album's lead single off the singer's twelfth studio album, Memoirs of an Imperfect Angel. Gucci Mane spoke of the legendary collaboration in his book The Autobiography of Gucci Mane and how the songstress asked him for advice on other projects during a studio session.