A New Film Once Again Whitewashes Cleopatra
Angelina Jolie to play a woman of color (again) in the biopic for "Cleopatra."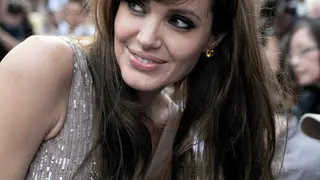 Angelina Jolie is still set to star as Cleopatra in the film being directed by David Fincher, who was behind The Social Network. Meaning that for the second time in cinematic history, the leader will not be portrayed by a woman of color (the 1963 version starred the late, great Elizabeth Taylor).

It is, to say the least, a casting decision which I find problematic. You would never see Whoopi Goldberg as Queen Elizabeth, Halle Berry as Marie Antoinette or Rosie Perez as Queen Mary of England.
Some argue that Cleopatra was more of Jolie's shade than that of a woman of color. Well, was Cleopatra really a Black woman? During her time "Black" and "white" as races hadn't become the social constructs they are today. Some argue Egypt's greatest queen was Greek, while other historians believed Cleopatra's mother was a concubine from Nubia. Therefore, many theorize she was half-Greek and half-African, and the fact that images of her depict her in cornrows makes some believe she was blessed with melanin.
Cleopatra's family was in Egypt for over 300 years, and while there was interbreeding among relatives, there were endless concubines. It's more of a stretch to say she was 100 percent European in Africa than to say she was of mixed background.
Angelina Jolie is a true Hollywood chameleon in regards to how she is cast. After A Mighty Heart, we all saw that with the right wig and some bronzer, she can be a woman of color. Nonetheless, I doubt she has anything to do with the role being whitewashed, but the lens of Hollywood is always fascinating.
Good luck to the creators of Cleopatra.  I'm sure they'll make the servants brown!
Side note: Cleopatra was pretty gangsta. She allegedly killed her sister, and focused more on her lovers than Egypt's governance. Some even say she was the main reason Egypt fell.
(Photo: Alan Davidson/PictureGroup)