The Best Diamonds Spotted At The 2022 MET Gala—From Dazzling Earrings To A $650K Chain!
We spoke to diamond experts to get details about some of our favorite looks from the night.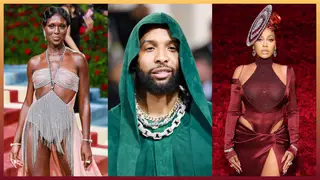 There's something about diamonds dancing in the flashing lights of the paparazzi that makes onlookers gasp in admiration. It could explain why so many celebrities chose the gleaming gems to elevate their ensembles at the 2022 Met Gala.
On Monday (May 2), diamonds took center stage at the Metropolitan Museum of Art in New York City, much like other award shows this year.
"Natural diamonds have dominated every red carpet this Spring," Sam Broekema told BET Lifestyle. The Editor-In-Chief of Only Natural Diamonds added, "It's not surprising. No other stone reflects the lights of a billion flashbulbs to the same effect. Nothing shines brighter than a diamond."
We couldn't be more in agreement. Rihanna even composed a song about it!
We chatted to Diamond Expert and Director of Trade for the Natural Diamond Council Grant Mobley to find out details about some of our favorite looks from the night. Keep scrolling to see the sparkling jewels that took center stage at the red carpet event.
Kim Kardashian

Kim Kardashian turned to diamonds to accessorize her legendary Marilyn Monroe moment. Mobley described her classic Cartier Essential line earrings as "18-karat white gold" with "approximately 15 carats of diamonds in three cascading strands."

La La Anthony

La La Anthony glowed in one-of-a-kind diamond drop earrings by David Yurman. "The tourmaline center stones complemented her dress," Mobley pointed out. The actress completed her look with diamond bracelets stacked over her sleeves.

SZA

SZA looked stylish and sophisticated in a classic diamond tennis necklace, which she paired with a diamond-framed portrait pendant.

The Wades

Gabrielle Union and Dwyane Wade walked the red carpet in stunning Tiffany & Co. jewelry. Dwyane's genius choice to pair a diamond chain with a diamond brooch quickly became the talk of the night. He completed the look with a $25,900 watch by Vacheron Constantin.

Beauty News: Gabrielle customized her stylish updo with hand-beaded crystal strands by Jennifer Behr.

Jodie Turner-Smith

"Jodie Turner-Smith was decked out in Gucci from head-to-toe," Mobley revealed. He carefully noted the actress' Gucci high jewelry diamond climber earrings with ruby accents, Gucci diamond bracelets, and diamond rings from the luxury brand.

Venus Williams

Venus Williams was red carpet ready in a wrapped Bulgari necklace featuring eye-catching emeralds and diamonds.

Alicia Keys

"Alicia Keys went full New York City in her skyline dress and Tiffany and Co. Jewelry," Mobley expressed, highlighting her art deco diamond drop earrings with emeralds. She also rocked a bracelet set with diamonds, emeralds, and Montana sapphires.

Odell Beckham Jr.

Odell Beckham Jr. broke the internet with his one-of-a-kind diamond chain designed by Gabriel the Jeweler. According to TMZ, the piece cost a total of $650,000 and features 300 carats of round diamonds, 200 carats of emerald-cut diamonds, and 2.5 kilos of gold.

Editor's Note: This story/interview has been edited and condensed for clarity.