Trump Is Still Tweeting About Protesting NFL Players And People Are Destroying Him For Not Addressing The Slave Auctions In Libya
"You seem overly concerned with athletes when people are being sold and killed."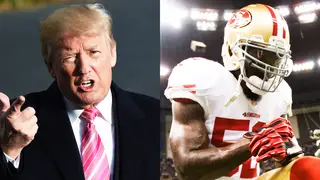 President Trump woke up this morning with protesting NFL players on his mind ... yet again, tweeting and blasting them and the league over their continued kneeling during the national anthem.
People have dragged the celebrity-in-chief for hijacking what Colin Kaepernick originally meant to be a protest against racism and the police brutality of unarmed Black men, and trying to turn it into NFL players disrespecting the flag, military and country.
Here's yet another Trump tweet about NFL players, followed by all the heated backlash he received for not addressing the atrocity in Libya.
President Trump couldn't control his twitter fingers this morning, once again bringing up protesting NFL players

But this time he got checked with people furious that he wasn't addressing the reported slave auctions in Libya, instead.

People were astonished over how Trump seemingly manages to outdo his own ignorance

It's like we're in the Twilight zone or something ...

And people flat out asked him about his plan for Libya?

Others simply demanded that he speak up about Libya

And then there's this ...

Trump's constant assault on the media is reportedly being emulated here. Lord help us.

Making matters worse, Trump followed his tweet about NFL players by gloating about becoming president and patting himself on the back about the job he's doing