Jessica White Responds to Nick Cannon for Talking About Her Lady Parts
See what she had to say about his explicit new song.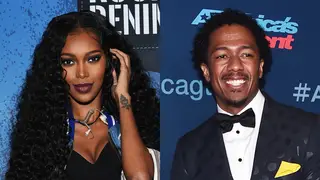 Now that Nick Cannon is a single man, he is letting the world know about some of his past relationships with some women you may recognize. Recently, he released a song detailing the time he dated model Jessica White, and while the lyrics alluded to him reminiscing about their adventurous love life, the model gave a brief response to Nick on social media.
In the pretty profane song, he raps, "Jessica, I gotta talk to her. I gotta confess that your [bleep] is better than the rest of 'em... cuz when we [bleep]... I put that whole 12 in her. Jessica, she model, professional, sexing butt naked in the back of the whip. The type you might want to wife and get pregnant... psych! I got on protection though. She's the best in the bed when it comes to the head... I don't know that b***h name, but I think it's Jessica."
In response to Nick's song, the model said, via Bossip, "I guess I'm really incredible. That's all I have to say about that."
Watch Nick Cannon promote #BlackLivesMatter at the RNC in the BET Breaks video, above.
BET.com is your No. 1 source for Black celebrity news, photos, exclusive videos and all the latest in the world of hip hop and R&B music.