Monica Releases New Song 'Letters' With Steamy Music Video
Her 15 year-old son reacted to the hot and bubbly music video.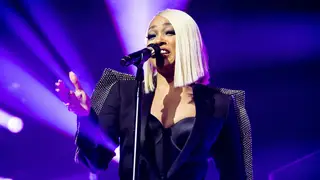 Grammy-winning actress and singer Monica got her start from a very early age, with roots in a gospel choir that led to her successful career today. She is known for her top-charting albums like The Boy is Mine (1998) and Still Standing (2010), as well as number-one singles such as "The Boy is Mine" with r&b icon Brandy and "So Gone."
She also has made her strides in Hollywood on shows like American Dreams (2003), films such as Boys and Girls (2000) and Pastor Brown (2009), and even her top-rated series on BET, Monica: Still Standing (2009).
With the help of Tasha Catour and Dana Johnson to produce the song, Monica's newest release, "Letters," writes out all her feelings of love, life, and happiness. It was co-written with Catour, Ciara, Alicia Renee Williams and Brian "Killah B" Bates.
The song details Monica's incomparable love for the one she found despite his incarceration. The 'letters' she writes sends a message of gratitude and deep love, describing "the feelings I feel I only feel with you," she lyricizes. This song expresses her feelings toward ex-boyfriend C-Murder, whom she made headlines with after visiting in prison last year.
The heartfelt track was released with a music video to match, showing a sensual bubble bath scene as she surrounds herself with the love letters.
However, Monica's 15-year-old son was not 'feeling the love' for the music video, commenting, "Yo what is this," shocked at the steamy scene on his mother's Instagram.
His mom quickly clapped back "SON... It's like a movie!! Momma at work," to jokingly comfort her son bearing witness to his mother 'at work'. Monica even shared the interaction to her Instagram story, captioning, "Somebody, please tell Lil Daddy take a day off...."
Despite what her son had to say, fans supported the super-soul ballad, saying, "One thing about it, Monica gonna pen a song to her man. I know that's right sis. 👏"