Tyler Perry's New Gig Will Blow Your Mind
He's set to play someone legendary.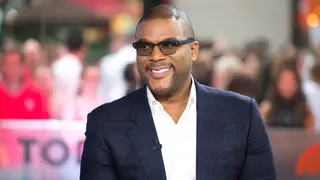 Tyler Perry is venturing away from his comedic roots for his next high profile role. This will be unlike any character he has every played before. 
According to Deadline, Perry will play Colin Powell in an upcoming film focused around former United States Vice President Dick Cheney.
Powell is known for his role as a statesman and retired four-star general in the United States Army. Throughout his military career, the Harlem-born American treasure served in a slew of high profile positions including National Security Adviser, Commander of the U.S. Army Forces Command and Chairman of the Joint Chiefs of Staff. He eventually became the 65th United States Secretary of State, serving under U.S. President George W. Bush from 2001 to 2005, making history as the first African-American to serve in this position.
While more on Perry's role has not yet been revealed, it is known that he will star alongside several other members of the Hollywood elite including Christian Bale (Cheney), Amy Adams (Cheney's wife, Lynne), Sam Rockwell (George W. Bush) and Steve Carell (Secretary of Defense Donald Rumsfeld).
The film is currently untitled but is rumored to be called Backseat, tentatively. It is being produced by Annapurna Pictures, Plan B and Gary Sanchez. 
Get more Tyler Perry news with BET Breaks, above.