Roaches And Racism: Kim Zolciak Is Threatening To Sue NeNe Leakes
Drama.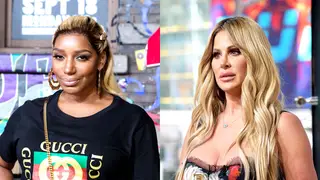 The 10th season of the Real Housewives of Atlanta is gearing up for its premiere, and while the show doesn't return for a few weeks, two of the returning cast members are already bringing the drama outside of filming.
According to TMZ, Kim Zolciak is threatening to sue NeNe Leakes for "millions of dollars." However, she's willing to let it all go if she apologizes for calling her and her daughter, Brielle, racists and members of the KKK.
Zolciak already has a legal team assembled, with high-powered attorney Allison Hart and the Lavely & Singer firm at the helm. They've already gotten to work on the matter by delivering a threatening demand letter, which was penned in response to Brielle's video showing insects crawling on NeNe's bathroom floor.
The letter highlights some comments NeNe made on social media, including, "Kim & her child did something very wrong & disgusting! Black people and roaches in the same sentence don't work for me boo." It also references NeNe's use of the hashtags "#racisttrash" and "#KKK," and her claim, "Kim & her daughter oops whole family are racists!"
Kim's representation calls the statements "outrageous and malicious lies" before adding that Brielle, in fact, never posted the video, but it was actually NeNe's doing. The letter went on to clarify that NeNe does, actually, have roaches in her home, but it had nothing to do with her race.
Adding another layer to the drama, the letter claims that NeNe is only targeting Kim and Brielle out of jealousy as they have a successful show on Bravo, Don't Be Tardy.
In addition to the requested apology from the Real Housewives of Atlanta breakout star, Hart wants a "prominent retraction" on Instagram, Twitter and all social media sites where NeNe posted her comments, and if she fails to do so, she mentioned, "Your conduct exposes you to multi-million dollar liability."
NeNe has not yet responded to their legal threats.
Get more RHOA news with BET Breaks, above.