Peritoneal Mesothelioma Survivor Tamron Little Reminds Us Of The Importance of Self Advocacy
She was diagnosed with this rare form of cancer in 2007.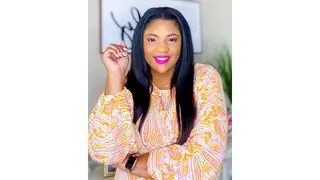 Being pregnant is typically a joyful time in one's life. But for Tamron Little, that new mommy exuberance was overshadowed by news that she had peritoneal mesothelioma. Little was pregnant with her first child, Caleb, in 2007 when her doctors saw a growth during a routine ultrasound.
Although it was initially thought to be fibroids, it was later discovered that she had a rare cancer that affects the lining of the abdomen. According to the American Cancer Society, common symptoms of peritoneal mesothelioma can include pain, swelling or fluid in the abdomen, nausea and vomiting, and constipation.
Little, who was dubbed a "walking miracle" by her doctors, is not only a survivor, but she also worked with Bristol Myers Squibb on a series called Survivorship Today that helps people understand what it's like to live with long-term cancer.
This is her story about her journey with peritoneal mesothelioma.
In 2007, I was 21 and in college and living what I thought was my best life when I became pregnant and I had no idea what to [expect]. My symptoms seemed typical. I had nausea, extreme fatigue, and abdominal pain, which was a little scary for me. During an ultrasound, they told me that I had a fibroid tumor and shouldn't worry about it because it is very common [especially] in black young females.
So, I really didn't think anything of it because the women in my family do have a history of fibroid tumors: my mom, my grandmother, and all of my aunts. However, five months after having my son, my doctor noticed that the tumor was growing—it was the size of a ping pong ball—and that prompted him to really look more into it. My hemoglobin was also low (the protein in red blood cells that brings oxygen to the tissues). I was diagnosed with anemia and given iron pills, which didn't work. I was also once again told that anemia is something common in Black women.
I realized that I had to start advocating for myself. I began questioning things. Initially, I didn't think it was cancer, but once the tumor began growing, I asked if it could be. I didn't know anything about fibroid tumors. All I knew was when I was told I had it; my mom said I was going to be okay because it runs in the family.
As a precautionary measure, my doctor removed it. After that surgery and with my family surrounding me, my doctor told me that I had cancer, specifically peritoneal mesothelioma. I was in a state of shock. It felt like everything was moving in slow motion.
He said he would refer me to an oncologist (a doctor who specializes in treating people diagnosed with cancer), and moved me to a room where a grief counselor and other medical professionals came in and told me a little bit more about my disease. I couldn't even pronounce it. I didn't know what it was. I was told that I had 18 months to live.
When I was diagnosed, there wasn't a lot known about peritoneal mesothelioma. My first oncologist told me that he didn't know anything about it. And when I went to see him, it felt like he was only checking my hemoglobin. I felt like I was waiting for the time they were going to call in palliative care and hospice.
However, my faith kicked in. I knew that God had something better for me. My mom helped me to find a specialist, and since having surgery to remove the tumor, I have kept up with my checkups even after reaching the pivotal five-year marker. I continue to be monitored for my peace of mind. I still have an oncologist and hematologist, and if I feel something's wrong, they get an email.
We must advocate for ourselves, do our research, and get a second opinion, even if we are uncomfortable asking. I tell my family they need to be ready with questions when they see their doctors and make sure to ask them.
This article was edited and condensed for clarity.