'Snowfall' Season 5: Everything We Know
Get ready for one of the biggest TV premieres tonight, Feb. 23, at 10 p.m. ET only on FX!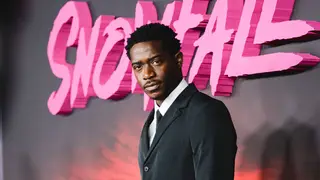 Snowfall Season 5 is headed back to FX this February and the plot starring Damson Idris as Franklin Saint comes with a major twist.
The next season of the FX series will take viewers back to 1986 when the drug empire run by Idris's Franklin has reached monumental success right when a famed drug-related death leads to a widespread crackdown on cocaine and crack.
With a roster of new cast members joining the show, here's everything you need to know to prepare for the new season of Snowfall.
WHEN DOES SEASON 5 PREMIERE?
The official premiere date for the fifth season of Snowfall begins on Wednesday (Feb. 23) with back-to-back episodes airing on FX starting at 10 p.m. ET.
HOW MANY EPISODES AND WHERE TO WATCH?
Returning cast members include Damson Idris as Franklin Saint, Michael Hyatt as Cissy Saint, Alon Moni Aboutboul as Avi Drexler, Amin Joseph as Jerome Saint, Angela Lewis as Aunt Louie, Carter Hudson as Teddy McDonald, Isaiah John as Leon Simmons and Sergio Peris-Mencheta as Gustavo "El Oso" Zapata.
New characters this season will include Devyn Tyler (Clarice) as Veronique, Brandon Jay McLaren (The Rookie) as Buckley, DeVaughn Nixon (The Bodyguard Fletcher) ( as Kane Hamilton and Tiffany Lonsdale (Ascension) as Parissa.
Now that the "War on Drugs" has been declared, government legislation and increased police presence are actively targeting drug dealers, which will soon be an issue for Franklin Saint.
The forthcoming season description reads: "The streets of South Central Los Angeles never have been so dangerous as the Saint family navigates the police, the warring gangs, and the CIA. Amidst all of this, the biggest threat the family faces is one another as they try not to let greed, resentment, and ego tear them all apart."