Patti LaBelle Sets The Record Straight About Her Relationship With Aretha Franklin On 'Drink Champs'
The legendary singer didn't hold back during her interview.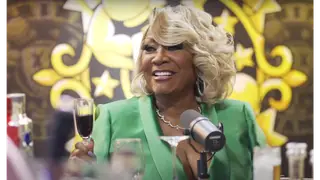 Auntie Patti LaBelle stopped by REVOLT's popular podcast Drink Champs recently and she didn't hold back. The legendary soul singer got straight to it, clearing the air about her relationship with fellow soul icon, Aretha Franklin, at the top of the episode.
After Drinks Champs host N.O.R.E. asked about Franklin's seeming snub of LaBelle at the Women of Soul concert at White House in 2014 — which gave way to a bevy of shady memes — LaBelle said the incident was a big misunderstanding.
"Me and Aretha, we were good," LaBelle said. "The time that she did the White House, she wasn't feeling great. After the White House, we spoke on the phone — she called me because she was very interested in having her items in Walmart. We talked about food, we talked about recording together — this is after the White House."
"I sang 'Ain't No Way' because she wanted me to," LaBelle explained. "She loved me. It wasn't love/hate, it was love, and when I'm not feeling well, you might [get] another side of Aretha. So that's all it was."
LaBelle added that Franklin is "her number one hero — always has been, always will be."
During the interview, LaBelle also shared how she met Luther Vandross (he gave the LaBelles some clothes while asking to be the president of the group's fan club), talked about her friendship with  her famous friends like Elton John and Richard Pryor, and she spoke about her relationship with Jazmine Sullivan.
"I thought Jazmine Sullivan hated me," she recalled.  "Lemme say something. Last week, she made my heart pound — hard. She called me. The same gentleman, Marquese, who made this outfit and the outfit that I wore for Essence last couple weeks ago, he's good friends with Jazmine. So he said 'Jazmine and I always used to talk about 'who's coming to Patti LaBelle's party first? You or me?'"
LaBelle said she and Sullivan are close and they've even talked about recording a song together. All in all, the legendary singer enjoyed her time on Drink Champs and even admitted she may have overshared, just a bit.
"I cleansed myself today on this show," LaBelle said. "I said a lot of things that I probably shouldn't have but I don't care. I said it and I feel good about being here."