Watch MC Lyte Perform on 'BET HER LIVE! Hosted by Yo-Yo'
The legendary rapper also talks to Yo-Yo about the responsibility of inspiring the next generation.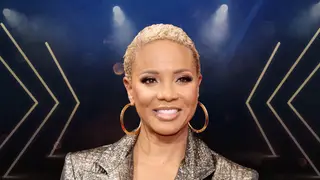 MC Lyte's debut album, Lyte as a Rock, burst onto the burgeoning hip hop scene in 1988 with unique and compelling lyrics on tracks like "Cha Cha Cha" and the club banger "Ruffneck." MC Lyte is responsible for the first solo album to be released by a female MC also reached gold status. "Ruffneck" also garnered the first Grammy nomination for a solo female rapper in the Best Rap Solo Performance category.
During an interview for the "BET Her Live! Hosted by Yo-Yo" series, MC Lyte fans were surprised to learn that the award-winning emcee originally thought she'd stop rapping at 27 and become a wife and mother. Thankfully, the multi-hyphenate kept rocking the mic and went on to release eight studio albums, secure two Grammy Award nominations, and appear in 19 movies (and counting) across her career.
"I have to thank all of those female rappers that came before me, that gave me the strength, the belief, and the inspiration," MC Lyte told Yo-Yo during their interview in Las Vegas. "ShyRock from the Funky Four + One more; Roxanne Shante, Sparky D and Pebblee-Poo, Sweet Tee. To hear these women's voices made me feel like, 'Oh, I can do this.'"
And in addition to being passionate about her career as a rapper, actress, author, and voiceover talent, the 52-year-old has also focused on giving back. In 2006, she co-founded the Hip Hop Sisters Foundation with Dr. Lynn Richardson to teach financial empowerment and offer college scholarships.
Always one to share the spotlight, Lyte flipped the tables on Yo-Yo to celebrate her impact on the culture as well. She praised the "breath of fresh air" Yo-Yo represented blowing in from the West Coast at the start of her career and the creation of the Intelligent Black Woman's Coalition.
And when it comes to the new generation of female emcees, Yo-Yo told Lyte she's proud of them but also pushes aspiring rappers to go beyond just talking about their physical form. "I understand that a lot of artists in this generation have been successful doing it but you don't have to do it all the time," she said. "I try to teach them to be their authentic self, live within your truth. Say some real shit so we can like it."
To close, MC Lyte set it off, rapping her classics "Cha Cha Cha," "Cold Rock a Party," and "Ruffneck."
In honor of the 50th anniversary of Hip Hop, here are five more things you likely didn't know about MC Lyte.
COLLABORATES WITH LEGENDS

Thanks to her hypnotic flow, MC Lyte has been called on to collaborate with legends like Will Smith ("Who Am I"), Mary J. Blige ("You Bring Me Joy"), Beyonce ("Fighting Temptation"), Sinead O'Connor ("I Want Your (Hands on Me,") and more. In 1994, she was tapped to tour with Janet Jackson. NBA legend Michael Jordan is also a fan, drafting MC Lyte to DJ his 50th birthday celebration and his 2013 wedding reception. "It's very easy to play for MJ; he tells you what he likes," she told HNHH podcast. "You're able to mix in what he likes with what you like."

EVEN HARVARD RESPECTS HER LYRICAL FLOW

SHE ALMOST LOST THE RIGHTS TO HER STAGE NAME

Born Lana Michele Moorer, her original stage name was Sparkle, but in 1985 she created the name Lyte. "I wanted a name that represented everything positive, where no darkness could exist, she wrote on Facebook in 2018. Unfortunately, when she reportedly signed her first label deal, the company owned her name. But in 2021, she was able to successfully win a 30-year battle for the trademark.

FIRST FEMALE MC TO PERFORM AT THE WHITE HOUSE

In 2014, MC Lyte performed "Cha Cha Cha" and "Dear John" for President Barack Obama during the 50th anniversary celebration of the National Endowment for the Humanities and the National Endowment for the Arts as part of PBS's In Performance at the White House series. First Lady Michelle Obama praised the rapper for her accomplishments and her foundation's work mentoring students. "MC Lyte was tired of only seeing rappers who didn't look like her, so she worked hard to find her own style as a rapper. And at 17 years old, she became the first female rapper to release her own album— yes, pretty good," noted Obama.

SHE PUT HER MARK ON MUSEUMS

In 2006, MC Lyte's personal diary, a turntable, photographs, records, and other items from her early career were donated to the Smithsonian as part of the "Hip Hop Won't Stop: The Beat, The Rhymes, The Life" collection. The National Museum for African American History and Culture also has a pair of the rapper's sneakers and photographs.