Gabrielle Union & Dwyane Wade's PROUDLY Baby Care Is Now Available At Target!
PROUDLY increases access to baby care products thoughtfully designed for babies with melanated skin.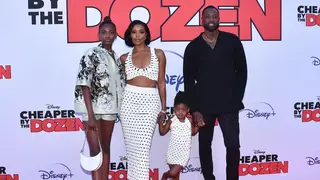 Gabrielle Union and Dwyane Wade have a new venture: PROUDLY Baby Care. And this month, it's available at the major retailer, Target.
PROUDLY focuses on creating high-quality, affordable baby care products. With melanated babies in mind, the products are specially formulated to meet the needs of babies and children of color, especially since they are more prone to skin concerns like general dryness, eczema, cradle cap, and acne. Union and Wade collaborated with dermatologist Dr. Naana Boakye to ensure authenticity. Boakye was more than intentional when selecting gentle, plant-based ingredients because, more than anything, the team wants to create soothing formulas that soften skin, gently cleanse, and keep babies glowing.
In a recent press release, the power couple stated, "Inspired by our daughter Kaavia, we set out to create baby care products formulated specially for babies with melanated skin. Through our partnership with Target, PROUDLY products will now be widely available to more communities, parents, and caretakers. We are so grateful to be partnering with Target, who is aligned with our mission to embrace and celebrate babies of color."
PROUDLY was brought to life after Union and Wade noticed a significant gap in the market three years ago when their youngest daughter, Kaavia, was born. The baby body and bum care's goal is to make the products like diapers, wipes, baby wash, diaper creams, and balms as accessible as possible. And what's more accessible than Target?
Some products include Soft & Absorbent Diaper Boxes ($19.99), Gentle Touch Baby Wipes ($8.99), Soothing Diaper Cream ($8.99), Lavender Chamomile Gentle Baby Wash ($8.99m) & Hydrating Baby Lotion ($8.99), Nourishing Oil ($11.99), All Over Balm ($6.99), and Calming Spray ($5.99).
Head to your nearest Target or Target.com to shop your PROUDLY baby care needs.