R. Kelly's Request For Temporary Release Denied Amid Coronavirus Outbreak
Kelly's defense attorneys requested his release on the grounds of vulnerable facility conditions in the midst of the life-threatening virus spread.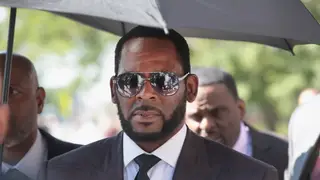 It appears embattled R&B singer R. Kelly will remain behind bars in spite of the coronavirus outbreak.
Kelly is currently being held at Chicago's Metropolitan Correctional Center as he awaits trial for several sex crime charges, including child pornography. His lawyers filed a request asking for him to be temporarily released from prison under house arrest, asserting that his life was at risk behind bars due to the spread of the coronavirus across the U.S. In their initial filing, his lawyers claimed that soap was scarce at the federal jailhouse where "most of its 700 inmates [are] held in small, two-man cells," which makes social-distancing difficult.

Yet, U.S. District Judge Ann Donelly denied the motion on Tuesday (April 7). In spite of the risk, she ruled that the 53-year-old remains too great of a flight risk to let him free. 

"[Kelly] is currently in custody because of the risks that he will flee or attempt to obstruct, threaten or intimidate prospective witnesses," Donelly issued, according to the Associated Press. "The defendant has not explained how those risks have changed."

She continued, "While I am sympathetic to the defendant's understandable anxiety about COVID-19, he has not established compelling reasons warranting his release," per Page Six.

This development comes amid multiple reports that incarcerated Florida YNW Melly fears he could die in jail after he contracted the respiratory disease. His health has reportedly taken a drastic turn for the worse since his diagnosis, and he's started exhibiting symptoms commonly presented by COVID-19 victims. 

Per AP's report, three staff members at the MCC have tested positive for the coronavirus. No inmates have contracted the virus so far. The number of reported coronavirus cases in the state of Illinois have shot up to 13,546 per NBC 5 Chicago's latest tally.