REPORT: Cuba Gooding Jr. Settles 2020 Rape Lawsuit Minutes Before Trial Was Set to Begin
The Jane Doe accuser sued the actor for $6 million over "significant emotional distress."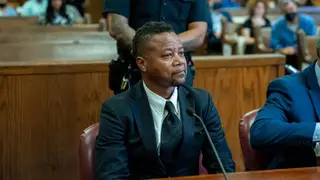 Nearly a decade after being accused of rape, Academy Award-winning actor Cuba Gooding Jr. has settled with his alleged victim. The motion reportedly took place just minutes before the trial regarding the case was set to begin.
According to legal documents obtained by PEOPLE, a calendar entry in the official court record listed "TRIAL OFF" and "Reason for cancellation (on consent): the parties have resolved the matter."
In 2020, the 55-year-old Hollywood star was hit with a $6 million lawsuit by an unnamed woman who claimed in 2013, the actor baited her into going to his Manhattan hotel room by saying he had to change his clothes before reportedly attacking her.
The woman alleged that Gooding Jr. blocked the door and pushed her onto the bed, where he then allegedly raped her twice. The Fighting Temptations star has denied those claims stating that the encounter was consensual with his lawyers, adding that the Jane Doe accuser boasted about having sex with a celebrity.
Legal counsel for the victim sought $2 million in compensatory damages and $4 million in punitive damages for the "significant emotional distress" she suffered after meeting the Red Tails star. It's best to note that the woman would have had to reveal her identity at trial following a ruling made by Judge Paul A. Crotty last week.
This case is just the latest in a string of accusations against Gooding Jr., who was accused of violating three different women at three various Manhattan nightclubs between 2018 and 2019.
Months later, two more women stepped forward with claims the actor inappropriately touched them, one of which he pled guilty to in April 2022. As part of the deal, the actor agreed to complete six months of counseling and had to refrain from getting arrested again.