A$AP Rocky Testifies That He Tried To Avoid Fight In Sweden
Rocky shared his version of events for the first time.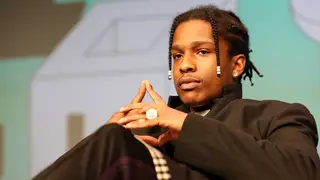 A$AP Rocky's trial resumed in Sweden on Thursday (August 1) where the rapper stood before a court for the first time during his ordeal. The Harlem rap artist shared his side of the story after a whirlwind, months-long investigation into a street brawl that led to him being detained by Swedish authorities.
The 30-year-old pleaded not guilty to the assault charges Swedish prosecutors are levying against him on Wednesday (July 30), and today, Rocky took the stand to share his version of the events that led up to the incident. He testified that he and his entourage were walking around Sweden when Jafari and another man approached them out of the blue. 

Rocky told the court he and his team had stopped near a fast food restaurant to download an app and check out electric scooters to ride around Stockholm when the two men randomly approached them, which Jafari himself admitted was true, although the 19-year-old claimed he did so because he was looking for his friend. 

Rocky acknowledged that he saw the two men come up to them but he didn't pay close attention to what was done or said. He just heard his security turning the two away when next thing he knew, one of his bodyguards had picked Jafari up by his neck and shoved him away, as shown in the videos that surfaced online yesterday via TMZ.

Rocky said that he did everything he could to diffuse the situation and avoid conflict, but Jafari instigated a fight with his bodyguard.

A round of he-said-she-said ensued between Rocky's and Jafari's legal teams over who attacked whom first. Ultimately, Swedish prosecutors were more interested in allegations that Rocky and his crew used excessive force against Jafari during the altercation. 

The crux of the trial, and severity of Rocky's prison sentence, hinges on Swedish prosecutors' allegations that the rapper and his entourage struck Jafari with bottles during the fight, which Jafari's legal team also testified happened. 

Rocky admitted that he and some associates did pick up bottles while they were being followed so the two men couldn't use them against them. But he said they quickly put them down when they realized it was a bad idea before the fight even started.

To back up his claims, Rocky's lawyer broke down videos frame by frame in court where circles were drawn around Rocky and his associate's hands that showed they were not holding bottles during the fight.

Rocky elaborated he reacted the way he did because he's been a target for attacks in the past and that's why he was fearful of Jafari's intentions. 

Circling back the bottle allegations, prosecutors showed texts from Rocky's assistant that they said proves Rocky and his team did hit Jafari with bottles. 

In one text, his assistant reportedly messaged somebody that "Harlem came out and smashed a bottle on a person," according to TMZ, followed by another text that said, "I hope Rocky deleted all the videos on his phone and kept only the one."

They then questioned Rocky over the supposedly deleted videos that show them hitting Jafari with bottles. Rocky clarified that he didn't have any idea about the texts. The prosecutor then questioned him over the video he posted to his Instagram. Rocky confessed to editing the video to take out the N-word and said he only posted it to show that Jafari got aggressive with them first. 

He concluded his testimony by saying that he isn't looking for money from the situation but just wants his name to be cleared and to walk free. It was not clear if his sentence was handed down during the proceedings, but if convicted, Rocky faces up to two years in prison.