5 Men Other Than Kanye West Who've Admitted To Getting Plastic Surgery
"I didn't want y'all to call me fat."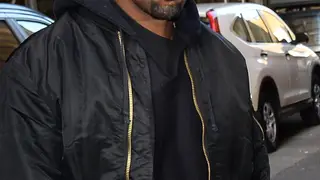 After Kanye West's outrageous interview with TMZ many were left confused.
While #BlackTwitter wasted no time meme-ing to bring awareness to the ridiculous comments on "slavery being a choice," others were taken aback by his admission to being addicted to opioids after getting liposuction.
FYI: Liposuction, better known as lipo, is cosmetic surgery to remove fat in order to change the human body's shape.
"I was addicted to opioids," Kanye shared while live on TMZ. "I had plastic surgery because I was trying to look good for y'all. I got liposuction because I didn't want y'all to call me fat, like y'all called Rob [Kardashian] at the wedding, and made him fly home before me and Kim got married. I didn't want y'all to call me fat, so I got liposuction."
Many men fear letting the general public know that they've gotten plastic surgery because of the backlash they could receive. Fellow rapper 50 Cent is giving the "Gold Digger" rapper grief for getting liposuction. 50 Cent captioned the video he recorded to highlight Kanye telling the TMZ staffers that he wanted to improve his body saying, "Wait what, that's what a bitch do when she want a Fat ass. LOL get the strap."
Kanye's statement proves that women are not the only ones that enhance their looks by going under the knife.
Besides Kanye, there are several other men in Hollywood who were brave enough to admit to the work that they have done.
Michael Jackson

Michael Jackson was known for his signature chiseled upturned nose (rhinoplasty) and his cleft chin (mentoplasty) he had installed in the '90s.

Dwayne "The Rock" Johnson

Back in 2005 actor/former wrestler The Rock had a breast reduction and got fat removed from his "moobs" (gynecomastia reduction). Though he was exercising, he wasn't getting the defined pecs he wanted.

Deion Sanders

Shemar Moore

Shemar Moore allegedly had a nose job (rhinoplasty) after a bike accident almost compromised his career and left him with scars that he thought could never be healed.

Enrique Iglesias

The Latin singer Enrique Iglesias was once known for his mole under his eye on his cheek, but he had his mole removed after he found out that his mole could cause him cancer. "I went to the doctor one day and he said I could have it removed in five minutes," Iglesias said.