Black Unemployment Rate Rose in December
The Black unemployment rate for December rose to 14.0 percent from 13.2 percent and the overall unemployment rate was 7.8 percent.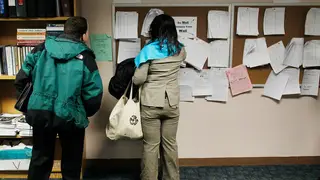 Despite predictions of gloom and doom as the nation veered toward the edge of the fiscal cliff, the final jobs report for 2012 has followed the trends of the last few months. The December unemployment rate for African-Americans, however, rose to 14.0 percent, compared to 13.2 in November. The overall unemployment figure also was slightly higher at 7.8 from 7.7 percent.
Both new and continuing claims for unemployment benefits climbed during the last week of December, by 10,000 and 44,000, respectively, according to a report the Labor Department released on Thursday. The monthly report from ADP, however, presented a much rosier picture, predicting that the private sector added 215,000 jobs, a huge increase on the 150,000 expected.
Even with the gains, hiring is far from accelerating. Employers added an average of 153,000 jobs a month last year, matching the monthly average in 2011. Employers added 1.84 million jobs in 2012, the same as the previous year.
Still, the stable hiring last month means employers didn't panic during the high-stakes talks between Congress and the White House over tax increases and spending cuts that were not resolved until the new year. That's a good sign for the coming months, since more budget disputes are expected.
House Majority Leader Eric Cantor called the report "disappointing" and said the 7.8 percent unemployment rate is "sadly becoming the new normal."
"We are barely getting by, and that is not good enough for our sons and daughters, friends and neighbors who are driving from job interview to job interview," Cantor added, calling on lawmakers to work together on solutions to Americans' economic challenges.
As he does each month, Alan Krueger, chairman of the White House Council of Economic Advisers, said there is still much more work to do to repair the economy and stressed the importance of not reading too much into any one monthly report. He also pointed to the fiscal cliff bill signed into law this week as evidence of steps the administration is taking to dig the nation out of a deep hole caused by a recession that began before President Obama took office.
"It is important that we continue to move toward a sustainable federal budget in a responsible way that balances revenue and spending while protecting critical investments in the economy and essential support for our most vulnerable citizens," Krueger said.

BET National News - Keep up to date with breaking news stories from around the nation, including headlines from the hip hop and entertainment world. Click here to subscribe to our newsletter.

(Photo:  Chris Hondros/Getty Images)