Rihanna's Comeback To The Stage Chronicled Via Apple TV+ Documentary
The superstar singer reportedly landed a multimillion-dollar deal with the streaming platform.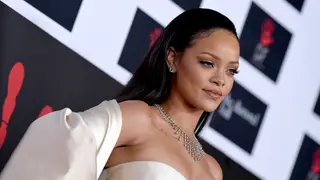 Perhaps one of the most talked about and viral Super Bowl halftime announcements ever was the revelation that Rihanna would take the stage during the NFL's biggest game. Now, the journey leading up to the huge moment will be available for her fans to witness.
According to Revolt, the superstar singer signed a deal with Apple TV+ worth millions of dollars that will chronicle RiRi's reemergence onto the music charts over the past month with her single "Lift Me Up" for the Black Panther: Wakanda Forever soundtrack and her overall return to music.
"There is a massive appetite for everything to do with Rihanna, especially as this will be her major return to the stage for the first time in years," a source noted, according to the outlet. "Rihanna is a massive force to be reckoned with when it comes to music and so Apple has paid millions."
As for what to expect from the documentary, the source said the Grammy-winning artist "will be recorded during rehearsals and meetings in the lead-up to the big night and give an insight into what her life is really like now [that] she is returning to pop as a mom."
A release date and/or further details about the project have not been made available immediately.