Commentary: Twitter Threats Worse for Women of Color
Women who express opinions online are often subjected to threats.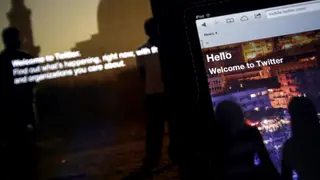 Black women are systematically disrespected, dehumanized and devalued. From Harriet Tubman "rape tapes" to editorials claiming that Black women are "uglier" based on faux racist science, Black women move throughout the world with daily reminders that we are less than. 
This reality extends beyond the everyday epidemic of street harassment and the caricatures portrayed every night on reality television. Our presence in social media spaces is also unsafe. Women of all shades are under attack on Twitter and Facebook, with threats of rape and death becoming something that's "the new normal" for women who express opinions online. But the trolling and harassment of women of color can be even more hostile and offensive, and the condemnation by the public writ large is never as swift or universal.
MSNBC contributor Goldie Taylor knows all too well what it's like for social media spaces to be dangerous. She recently had a conservative troll post what he believed to be her office address online, saying, "I know where you work. Better watch over your shoulder. But you won't know before it happens." 
"The threats are so profane and so vile," Taylor told BET.com. "This person had images of Black men being lynched in his profile header. He broke every rule that Twitter has set up. He has tweets threatening the first lady, President Obama and Sybrina Fulton [Trayvon Martin's mother]. He's affiliated with the Tea Party and posts frequently on white supremacist sites. This isn't a 15-year-old boy. This is a grown, politically active man with possession of guns."
And University of Pennsylvania Professor Anthea Butler told BET.com, "No matter what we say, it's going to be twisted into something we didn't mean. I think it's coordinated. Black women who are on MSNBC are routinely attacked. This is an effort to silence these voices. They think Black women shouldn't be talking. It's a game to them. It's meant to keep the outrage machine going."
That outrage machine is meant to intimidate women, particularly women of color who are brave enough to tell their stories and raise their voices about important issues, including race, sexual violence and sexism. Black women are routinely silenced, even by supposed allies, and when their voices do break through, the barrage of attacks are swift and persistent. "Black women do get it more. It's more vile and racially motivated. And it's keyed to our persons. When white women get attacked they may not get attacked for being ugly. The level of hatred is different. It's targeted to Black women who appear on liberal networks," said Butler.
The danger for women is very real and felt beyond simply "hurt feelings" or offense and until Twitter improves it's reporting policies, cyberbullying laws catch up to where we are technologically and every ally from every gender and walk of life team up to stomp out the trolls, they will continue to pop up.  This ongoing game of social media whack-a-troll is a frustrating reality and hopefully substantive changes don't finally come in response to a woman being attacked offline after being threatened online. It's not really the trolls themselves that are the most dangerous aspect of this online terrorism directed at women of color. "The unstable person who is watching is the real danger. It's [the troll's] audience who is dangerous." said Taylor.

The opinions expressed here do not necessarily reflect those of BET Networks.
BET National News - Keep up to date with breaking news stories from around the nation, including headlines from the hip hop and entertainment world. Click here to subscribe to our newsletter. 
(Photo: Alastair Grant/AP Photo)