Rapper DDG Surprises NYC Students With 'Valedictorian' Pop-Up
BET hit the streets with DDG in a real school bus to witness the rapper inspire the youth.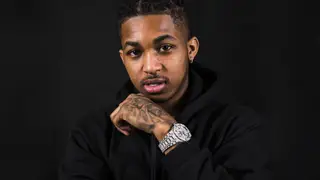 It's early in the afternoon and the sun is high when DDG steps off a school bus to surprise students at the Brooklyn High School of the Arts. Screams of excitement fill the auditorium as he enters, with some students shedding tears once the YouTuber-turned-rapper takes the stage. 
The Gen Z luminary, dressed in black from head-to-toe, poses for pictures and delivers straightforward advice for others hoping to follow in his footsteps: be yourself and believe in yourself.

"I was born and raised in Pontiac, Michigan, you know, and it's ghetto," DDG, born Darryl Granberry Jr., earnestly explains. "It's hard out there. Being around that kind of environment just made me want to be better and get away, and do bigger than what the city expects."

Today is a full circle moment for the "Run It Up" rapper, who dropped his 18-track debut album, Valedictorian, on Friday, (Nov. 1). DDG first rose to fame online through YouTube, and initially hit his creative stride while producing skits. That artistic hustle soon bloomed into a series of promotional diss tracks and a full-blown rap career in the span of four-and-a-half years, leading to his signing with Epic Records in 2018.

Having actually graduated from high school valedictorian of his class, DDG's words of wisdom hold weight when speaking to students.

"[Academics] are very important, because I was really into school. That's what a lot of people don't realize," he explains to BET.com while back on the school bus he rented for the day. "Valedictorian is just about being super competitive and being at the top at all times. It displays my competitiveness. I want to be valedictorian of everything — definitely of the rap game."

But for now, DDG's focus is making the most out of today with his fans. The bus' next stop is Times Square for the premiere of the rapper's "Push" music video. The premiere turns into a bit of a mosh as frenzied fans squeeze in close to DDG. Swept up in the emotion, his mother cries tears of joy. Afterward, DDG says that while the release of his album is a dream come true, it isn't at all surprising. 

"Honestly, I knew I would be great. But I don't feel I'm where I want to be at all," the rapper says. "Not even close. I keep that in mind to keep myself humble, and make myself want to work even harder. But it's a beautiful feeling to have all these people out here supporting me."

DDG's next goal? The new class of rap's top spot. 

"I just feel like [with] me coming off of YouTube, a lot of people don't take my music serious at first — but my music is good," he says. "That's why I'm in a position that I'm in. I feel like me crossing over and breaking this barrier is going to make it the norm. You gonna see a lot of other people coming from YouTube and making music. But I'm a pioneer at this point." 

Unfortunately, the school bus breaks down, and DDG is unable to play his album off its sound system. But the rapper quickly turns the moment around when he asks everyone on board to play his music out loud from their phones instead. Students are more than happy to oblige if it means they get to chill with the rapper a bit longer.

If there's one thing he wants fans to take away from the day, it's that anything is possible.

"I just hope young people look up to me and feel inspired, and feel that they can chase their dreams, and that they can make anything happen."