Watch: Federal Emergency Declared as Baton Rouge Floods Leave Thousands Homeless
But are residents satisfied with the national guard's response?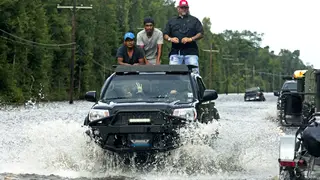 Torrential downpour in Baton Rouge, Louisiana, has resulted in historic and devastating flooding. On Sunday evening, President Obama declared federal emergency following the natural disaster that has killed at least four people. 
Louisiana Governor John Bel Edwards commented on the effects of the flood. Edwards said over 20,000 Louisiana residents have been rescued and 12,000 are in shelters. The floods have crippled the city and left over 40,000 residential homes and commercial businesses powerless.
The flooding resulted from a week of heavy rain that led up to over a foot of rainfall occurring on Friday night. The incidental rain created a deluge that the Pacific Standard says happens once every 500 years.
Although the rain has stopped, the rivers continue to rise in water levels and the city is still at risk for additional flash flooding.
Thousands have been evacuated to shelters; however, some shelter locations were also hit by the floods and many residents were displaced. The remaining shelters are extremely crowded, forcing some residents to sleep on the bare floor.
"My friends and family have lost everything due to the raining and flooding in Louisiana. It's like Katrina, but much much worse," Tammy said. "What they're reporting on the news is no where near as bad as it really is. Despite what's being reported on the news, the National Guard hasn't rescued anybody — it's been other civilians."
Regardless, the flood has been extremely devastating for everyone in the state. The National Guard has deployed 1,700 troops and more will continue to arrive. State Police helicopters delivered food and water to hundreds of motorists stuck for more than 24 hours in flooding near Baton Rouge. Col. Michael Edmonson of the state police superintendent said that rescue troopers have to first rescue those who are critically injured or ill. "We have to address life and death situations first before quality of life," Edmonson said Sunday.